Is your organization ready to apply for financing through the Florida Community Loan Fund? See how, step by step, you can put FCLF's financing to work in your community. By borrowing and repaying your loan, the financing you use eventually gets recycled and is available to help fund other community projects.
Review Program Guidelines. Visit our Downloads and Resources page for a downloadable program guide on our Affordable Housing Financing, Community Facilities Financing, or New Markets Tax Credit (NMTC) Program.
Contact Us and ask to be directed to one of our Loan Officers. If your Loan Officer recommends it, you will move on to the next step.
Complete the Loan Application. If your Loan Officer believes that your project is a good fit for FCLF financing, you will receive a Loan Application by email. Once you have completed and submitted your application, it will be reviewed by your Loan Officer.
Lending Committee Review. Each completed application goes through underwriting and then on to a Lending Committee for approval, rejection, or requests for additional information. You may be asked to sign a Letter of Commitment detailing terms.
Closing and Post Closing. Your Loan Officer will work with you to arrange the closing. After closing, funds will be disbursed as agreed upon. You will receive monthly statements and may make payments by check or electronic transfer.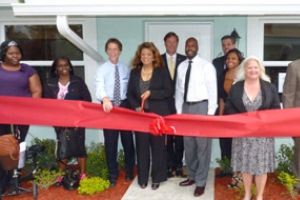 Benefit to Other Low-Income Communities. As you make payments on your financing, that funding is available to use for other high-impact community and economic development projects around Florida. In this way we all work together to make every community in Florida productive and sustainable.