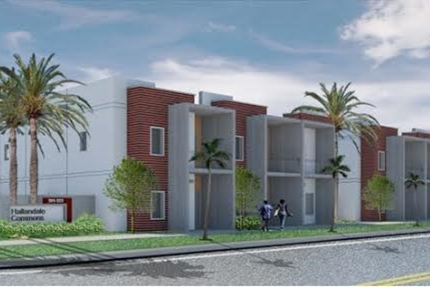 The Hallandale Beach Community Redevelopment Agency recently shared news about Hallandale Commons, a new ultra-modern development that is poised to set in motion the modernization of an entire neighborhood.
Florida Community Loan Fund provided $3.1 million in construction financing for the Hallandale Commons development. Additional funding was provided by the City of Hallandale Beach and the Hallandale Beach CRA. The project was developed by Donaldson-West Venture.
The project consists of 10 townhomes with a focus on providing workforce housing and offering homeownership opportunity to first-time homebuyers.
The Hallandale Beach CRA says of the project: "Foster Road is rich in history as an African-American enclave for business and culture. The neighborhood has been in the process of reviving its cultural and historical significance. The HBCRA believes that Hallandale Commons will catalyze similar style developments in the northwest area in the years to come."
Learn more about FCLF & Hallandale Beach Commons here.
Read more about Hallandale Commons on the Hallandale Beach CRA website here: Hallandale Commons – The Northwest's Newest Redevelopment Has Arrived.
The project was also featured in this article from Capital Analytics Associates: Hallandale Beach CRA's Big Plans Coming to Fruition.