Tzedec Community Investing
Bend the Arc - A Jewish Partnership for Justice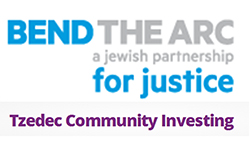 Since 2010, Tzedec Community Investing has been an investor in the Florida Community Loan Fund. Thanks to the confidence and support of socially responsible investors such as Tzedec, FCLF continues to share the vision of our borrowers to strengthen communities across Florida and help projects succeed.
To read more about Bend the Arc and Tzedec Community Investing, visit www.bendthearc.us/tzedec. Here is an excerpt from the website:
---
Bend the Arc is investing in an America that works for everyone. We invest in the common good and provide individuals and institutions with the opportunity to join us in this work through our Tzedec Community Investing program. Community investing is a proven strategy for decreasing poverty and expanding economic opportunity. We help people revitalize their neighborhoods through long-term investments in low-income areas that have been blighted by economic or natural disasters – sometimes by both.
Our community investing program is designed to help individuals, family foundations, synagogues and other faith-based institutions pool their money to invest in distressed communities through low-and no-interest loans. We also help people invest in Community Development Financial Institutions (CDFIs) that serve individuals, businesses and nonprofits typically neglected by mainstream banks.
Tzedec Funds
Tzedec Economic Development Fund (TEDF) is our core loan fund and makes loans and deposits in community development financial institutions (CDFIs), in seven cities and regions across the country: Baltimore, Boston, South Florida, the Gulf Coast, Los Angeles, Philadelphia, and Washington, DC. TEDF Notes are offered in states where they are authorized for a term of three, five or seven years, paying investors 0% (in the tradition of Hebrew Free Loan Societies) or 1% interest.
Tzedec Community Ventures, LLC (TCV) is Bend the Arc's place-based, high-impact and high-visibility loan fund. TCV currently has $1.2 million invested in a long-term community development initiative in the Oliver neighborhood in East Baltimore that will create more than 450 units of new and renovated affordable housing over the next 10 years.