"We are pleased to partner with the Florida Community Loan Fund as you work to make a difference in our community." - PNC Foundation
PNC Bank has been an important supporter and investor of the Florida Community Loan Fund since 2010, providing both operating support through grants from the PNC Foundation, and debt capital investments (low interest community development loans) through PNC Bank.
---
The following information can be found on the PNC Bank and PNC Foundation websites:
PNC and the PNC Foundation have long histories of strengthening and enriching the lives of our neighbors in communities in which we live and work. For decades, we have provided resources to seed ideas, foster development initiatives and encourage leadership in nonprofit organizations where imagination and determination are at work enhancing people's lives every day.
Our Mission. The PNC Foundation's priority is to form partnerships with community-based nonprofit organizations within the markets PNC serves in order to enhance educational opportunities and to promote the growth of targeted communities through economic development initiatives.
Partnerships are made with community-based nonprofit organizations in the PNC footprint. Foundation grants awarded to worthy nonprofit organizations that primarily focus on:

• Education programs, particularly early education initiatives serving low-and moderate-income children (Grow Up Great initiative)
• Economic development
• Arts and culture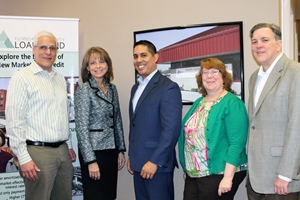 Pictured at right: Aileen Pruitt and Victor Avila of PNC Bank, with FCLF Staff Ignacio Esteban, Tammy Thomas, and Rich Rollason.