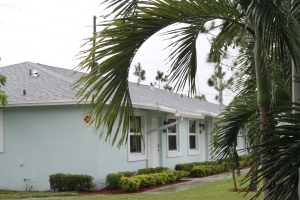 "HSBC Bank is committed to community development and seeks to partner with impactful organizations that understand the needs of their communities and consistently deliver strong results – both in terms of social outcomes and financial performance. We are thrilled to be working with Florida Community Loan Fund and supporting their work, specifically in the South Florida market. Florida Community Loan Fund has a keen knowledge of the challenges and opportunities in this region and we are confident that HSBC's capital will be used to develop important projects that will improve the lives of low-income people." – Kathleen Rizzo Young, Senior Vice President, Community Development, HSBC Bank USA, N.A.
Florida Community Loan Fund has a wide range of investors and supporters, including HSBC Bank USA, N.A.. Thanks to our network of stakeholders, FCLF is able to provide financing for high-impact projects that improve Florida's communities.
HSBC Bank USA, N.A. (HSBC Bank) helps revitalize communities through partnerships with community groups, signature products and services that meet local credit needs, and the provision of accessible and convenient banking services. HSBC employees also play a significant role in community development, by contributing time and expertise to make communities better places to live and work.
---
Information from HSBC's website, www.us.hsbc.com, gives an overview of their work in Community Development:
Loans and Investments. HSBC Bank makes loans to and equity investments in community-based organizations – such as community development financial institutions, community development corporations, and national intermediaries – engaged in:
· affordable housing development
· economic development
· activities and services targeting low and moderate-income individuals and communities
Service. HSBC's Community Development Department is a dedicated unit in HSBC Bank USA that focuses on CRA performance, managing the resources that help put community reinvestment to work on a daily basis. Our goal is not merely to meet these requirements but exceed them, since providing these services is not only good business, it is also the right thing to do.
HSBC Bank's community development officers are located in all major areas of the bank's footprint, and work closely with community organizations within those areas to ensure responsiveness to community credit needs. The staff of the HSBC Community Development Department conducts outreach and provides technical assistance to community groups. Community Development officers also engage in a wide range of service activities, such as serving on organization boards and loan committees, providing educational seminars and sponsoring community events and activities.
And from the Corporate Sustainability portion of the HSBC Website:
We value a culture of dependability, doing the right thing, being open to different ideas and cultures and being connected to our customers, communities, regulators and each other. These values and principles are embodied by our employees and extend beyond our walls. They drive our organization's commitment to giving back to the communities we serve.
We recognize the responsibility our company and our people have in contributing to a thriving, successful society. To fulfill this responsibility, we seek out initiatives that, through our community investments, will make a difference in people's lives.