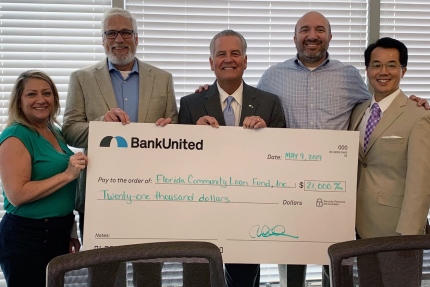 "BankUnited understands the challenges facing our communities and we applaud your efforts. Providing support to organizations like Florida Community Loan Fund – which provides opportunity and improves the quality of life in our communities – is central to building capacities that truly make a difference." – Katrina Wright, VP, Community Development & Outreach, BankUnited
BankUnited has been an important supporter and investor of the Florida Community Loan Fund since 2010, providing both operating support through grants and debt capital investment (low interest community development loan). In addition, Claire Raley, SVP, Community Development Officer, has volunteered on FCLF's Board of Directors and other standing committees.
BankUnited has a strong commitment to community development. The information below can be found on their website: www.bankunited.com/about-us/community-development
---
Giving Back To Our Community
At BankUnited, helping the communities we live and work in is who we are. We strive to be a better bank by providing a positive foundation for our local communities, with sound and responsible financial products and services that meet the needs of our communities.
In partnership with the community, we recognize the following needs across our communities: small business lending and financial education. As a result, BankUnited is addressing these issues in collaboration with our community partners by providing community development loans, corporate contributions and community investments that help to revitalize and stabilize low and moderate income or distressed and underserved communities.
At BankUnited, we take our corporate social responsibility seriously as an essential part of developing and sustaining all of our communities and weave it into our daily life.
Our commitment to the community includes collaborating with our partners by providing financial support and actively supporting the developmental goals and initiatives of the communities we serve in addition to giving back through employee volunteer service. We strongly encourage all of our employees to take an active role in their communities and provide a supportive environment to do so.