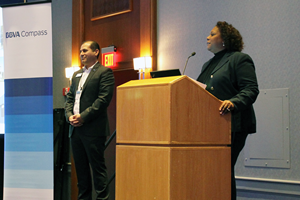 "We look forward to growing our partnership and to making more great things happen in the Florida communities served by BBVA Compass." ‒ Tiena Johnson-Hall, Community Development Finance Manager, BBVA Compass
BBVA Compass has been a supporter of the Florida Community Loan Fund since 2014, with grants from the BBVA Compass Foundation and a $5 million equity equivalent investment from BBVA Compass. Working together with groups such as BBVA Compass, we are able to accomplish our goals of improving lives and communities in Florida.
Below is an overview of information about BBVA Compass and the BBVA Compass Foundation. Learn more on their website, www.bbvacompass.com.
BBVA Compass is a leading U.S. banking franchise with operations throughout the Sunbelt region and it ranks among the top 25 largest U.S. commercial banks based on deposit market share. BBVA Compass operates 674 branches in Alabama, Arizona, California, Colorado, Florida, New Mexico and Texas. It ranks among the largest banks in Alabama (2nd), Texas (4th) and Arizona (5th). In addition, BBVA Compass has been recognized as one of the nation's leading Small Business Administration (SBA) lenders.
BBVA Compass is committed to banking on a brighter future, and that commitment starts in the communities we serve. The Corporate Responsibility and Reputation (CRR) department is responsible for creating and implementing national strategy, programs (Community Giving, Employee Involvement, Community Relations, Community Development Finance, Communications and Reporting), with regional officers responsible for activating and monitoring these national programs across the bank's footprint. CRR creates social value by strategically investing in projects that directly impact low-to moderate-income families and individuals, small businesses, and nonprofit organizations aligned with BBVA Compass' business strategy.
Community Giving: The BBVA Compass Foundation
The BBVA Compass Foundation demonstrates our support to the communities where we have a presence. The Foundation provides charitable grants to qualified nonprofit organizations – a long and proud tradition of the many banks that came together to create the company we are today. The BBVA Compass Foundation prioritizes its community giving strategy on six focus areas:
Community Development (including Financial Literacy)
Education
Health and Human Services
Arts and Culture
Environment and Natural Resources
Diversity and Inclusion
BBVA Compass' commitment to community investment goes beyond charitable contributions: Our volunteers commit their time and talent to signature, bank-wide volunteer programs that include pro bono professional services, financial education for people of all ages and personal passion projects to provide everyone with a brighter future.
All of this activity is reported annually in the BBVA Compass Responsible Banking Report available for download here.
Pictured above, Reymundo Ocañas and Tiena Johnson-Hall of BBVA Compass speak to community development leaders at the annual OFN Conference, November 2015.