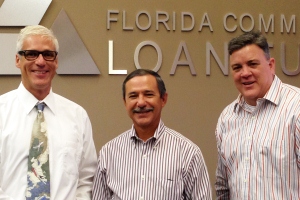 "We commend the important work of FCLF. We take great pride in supporting organizations that strengthen the communities we serve." - Ann Reinert, JPMorgan Chase, Florida-Georgia Global Philanthropy
JPMorgan Chase and JPMorgan Chase Foundation have been friends of the Florida Community Loan Fund since 1998, through operating support, equity grants, and investments. JPMorgan Chase Foundation invested, through an equity grant, in our Florida Preservation Fund program which allowed FCLF to extend the program to include 26 Florida counties.
Pictured: Ignacio Esteban, FCLF Executive Director, Mike Dosal of JPMorgan Chase, Rich Rollason, FCLF.
---
Here is information from the JPMorgan Chase corporate philanthropy website:
As JPMorgan Chase has evolved into one of the world's largest and most influential global financial institutions, our approach to philanthropic investment has also evolved. However, throughout this evolution and change, one thing has remained constant: our firm's unwavering commitment to making a positive difference in the communities where we operate.

JPMorgan Chase's philanthropic goal is simple - be a catalyst for meaningful, positive and sustainable change within our highest-need neighborhoods and communities across the globe. In 2010, JPMorgan Chase and its Foundation gave more than $150 million through grants and sponsorships to thousands of not-for-profit organizations across 28 domestic markets and 25+ countries abroad. We also support the individual interests of our employees through the Matching Gift and volunteer programs.

Targeting Challenged Neighborhoods. The JPMorgan Chase Foundation directs the majority of its time, attention and investment toward specific neighborhoods in cities where we have major operations. These neighborhoods are typically among the most challenged areas of major urban centers, defined by unacceptably high rates of poverty and historic disinvestment. JPMorgan Chase works to lead a renaissance in the neighborhood, by engaging the most qualified non-profit organizations, neighborhood residents, and other sources of public and private advocacy and funding.

The firm's philanthropic investments are directed toward three centers of excellence:
   Community Development
   Education
   Arts and Culture