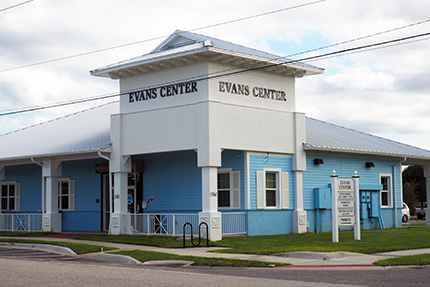 CENTRAL REGION
$700,000 FCLF financing
Food access financing brings fresh, healthy foods and healthcare to a low-income community
6,000 square-foot building to include grocery store, health center, and community meeting space
"Evans Center is grateful for FCLF's partnership on this economic development project. Area residents are filled with hope and excitement, envisioning bins filled with healthy foods, healthcare services through the clinic, and exchanges among neighbors as they support their community." – Lynn Brockwell-Carey, Executive Director, Neighbor Up Brevard
---
In a Brevard County neighborhood, the Evans Supermarket once thrived and served residents of both northeast Palm Bay and south Melbourne. Mr. Evans gave the community a safe, attractive place to buy healthy foods, offered employment to local residents, and became an important community gathering spot. After Mr. Evans' death, the building saw a decline and became an eyesore. Demolished by the city in 2012, the land was purchased by Evans Center in 2016.
The Evans Center, located in a USDA-designated Food Desert, is being developed by Evans Center, Inc., a subsidiary of Neighbor Up Brevard (formerly Brevard Neighborhood Development Coalition, BNDC) on the site of the former Evans Supermarket. The new 6,000-sq ft multi-purpose facility, scheduled to open in 2018, will house a grocery store with fresh produce and meats, a Federally Qualified Health Center operated by Brevard Health Alliance, and a community room to be used for job training, health and wellness education, and other needs. The purpose of the new building was identified by area residents through surveys, which confirmed the needs in the community for:
access to fresh food,
helping youth with job training,
healthcare and wellness programs, and
a new building that can become a community gathering place.
Community residents have led efforts to generate excitement for the Evans Center, with on-site Saturday farmers markets offering fresh, local produce, and classes provided by the University of Florida Extension Services. The Evans Center will serve the community just as the historic market once did, with easily accessible, healthy, fairly priced food.
The $1.4 million Evans Center project will be financed by $700,000 from Florida Community Loan Fund and other public and private sources. FCLF and BNDC have previously partnered on housing in the Greater Heights neighborhood and on The DOCK after-school and teen center. The site is located in an Enterprise Zone and a Community Redevelopment Area. In addition to bringing much-needed services, Evans Center is a critical project for stabilizing this community and stimulating the economic growth of the city's Bayfront Community Redevelopment Area.
Financing for the Evans Center is provided as part of FCLF's Food Access Program, established to increase access to fresh, healthy foods in low-income, food insecure communities. FCLF has received funding for its Food Access Program from the U.S. Department of Treasury CDFI Fund's Healthy Food Financing Initiative (HFFI), and from the Florida Department of Agriculture, Division of Food, Nutrition and Wellness, Healthy Food Financing Initiative (FL-HFFI). These funding sources, along with FCLF's private capital, deploy flexible financing for projects that provide ready access to fresh foods and can, in turn, improve health indicators such as diabetes and heart disease.
Learn more about FCLF and Evans Center in this video: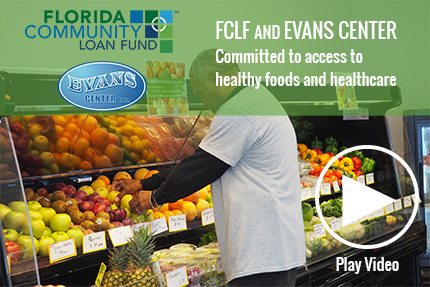 To learn more about FCLF and Neighbor Up Brevard (formerly Brevard Neighborhood Development Coalition), click here.
To view more photos from the Evans Center groundbreaking, visit FCLF's Flickr Evans Center photo collection.
To learn more about the Evans Center, visit www.evanscenter.org
To learn more about Neighbor Up Brevard (formerly Brevard Neighborhood Development Coalition), visit www.neighborupbrevard.org
Pictured above, Evans Center exterior. Below, groundbreaking for the Evans Center took place in December 2017.