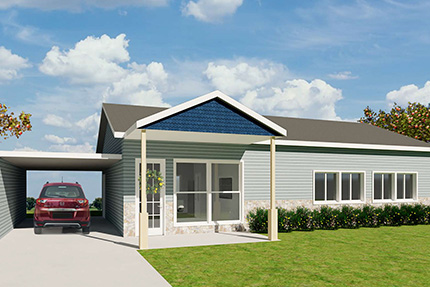 NORTHWEST REGION
$1.5 million FCLF financing
Acquisition and construction – term loan and line of credit
New construction of affordable housing for rent and for sale
"We could not do the project we currently are developing without the support of Florida Community Loan Fund. The commitment of FCLF to support the development of affordable housing when traditional lenders will not is a mark of their dedication to serving the underserved in our communities." – Bill Wilson, President, Graceful Solutions, Inc.
---
Graceful Solutions, Inc. was established in 2012 to educate and advocate for aging in place. In 2015, the organization's mission expanded to include all affordable housing. Its community and real estate development focuses on neighborhood revitalization in the Frenchtown and South City neighborhoods in Tallahassee. GSI also did some work in support of the CRA in the Lealman neighborhood in Pinellas County.
With financing from Florida Community Loan Fund, Graceful Solutions will build 8 affordable rental homes – 4 duplexes – and is developing a 1.4 acre parcel with homes for sale; all in the South City area of Tallahassee. The for-sale homes will help the City of Tallahassee's goal of diversifying income levels in this area.
Graceful Solutions will build all new single family homes using a Structural Insulated Panel (SIP) a certified Green product that uses magnesium oxide skins and foam for insulation, and include many other energy-saving features. GSI estimates energy use will be 40-60% less than in a traditionally built house. Construction will meet Florida Green Building Coalition standards and include Florida-friendly landscaping.
All homes will be affordable for low-income and moderate-income families. The median income in this census tract is $17,228 – only 23% of the overall area's median income, or AMI. This project, along with imminent redevelopment of an adjacent public housing development, will provide a significant boost to the area. The completed project will also provide a source of cash flow for Graceful Solutions, allowing the organization to continue work towards its mission.
Pictured above, a sample home from Graceful Solutions.