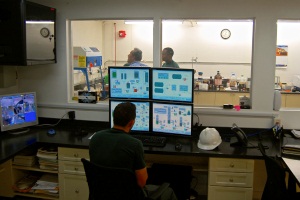 SOUTH REGION
TOTAL PROJECT $30.5 million
FCLF NMTC ALLOCATION $9.1 million
Green Fuel Production Facility
26,000 sf leased space
3 million gallons low-emission biodiesel fuel annually
52 Permanent & 10 Temporary Jobs Created
"Local Production for Local Consumption and a Better Future"
Green Biofuels, LLC, located in Miami, FL has purchased biofuel production equipment and thoroughly tested its readiness for production. The organization is preparing to begin collecting raw materials, activate and expand production, add a waste collection system, and make other improvements to the plant. The biodiesel that will be manufactured at this facility:
Is better for the environment than petroleum diesel fuel, lowering harmful emissions from vehicles;
Is made from renewable resources - the plant will not use agricultural by-products, but instead collect used grease oil from the local community, further reducing the carbon footprint of the process;
Is less toxic than table salt and biodegrades as fast a sugar;
Uses no water in the process, thereby helping conserve one of Florida's most valuable resources;
Produces zero harmful byproducts. The only byproduct from the chemical process – called transesterification – is glycerin, usually sold to be used in products such as soap.
The manufacturing process is fully "green" from beginning to end as certified by an independent engineering firm hired by FCLF.
With financing provided through the New Markets Tax Credit (NMTC) Program, Green Biofuels will operationalize the existing facility and expand it with the goal of producing 3 million gallons of biodiesel per year. Florida Community Loan Fund (FCLF) provided $9.1 million in NMTC allocation for this $30.5 million alternative energy project. This transaction was finalized in August 2013.
The Green Biofuels facility is in a highly distressed census tract in Miami, with a 25.3% poverty rate and 14.3% unemployment (or 1.8 times the national average). In addition to recycling existing grease and oil byproducts into a low-emission biodiesel fuel, the project will currently provides at least 50 jobs and expects to provide an additional 100 jobs in the future. Green Biofuels has also formed a partnership with Florida International University that will allow the facility to serve as a teaching laboratory and offer internships to students.
The company's slogan is: "Local Production for Local Consumption and a Better Future."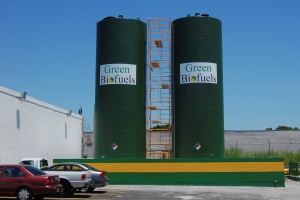 Green Biofuels' Gustavo Bergonsi says: "This isn't just our slogan; it's our commitment to our global community to work toward sustainable energy solutions for the betterment of all."
This NMTC project meets FCLF's goal of investing in Green and environmentally friendly projects, while improving low-income communities through economic development and jobs creation.
INVESTOR & STATE NMTCs: US Bancorp Community Development Corporation
LENDER: US Bancorp Community Development Corporation, Vigus Global Corporation
To view more photos of Green Biofuels, visit our Flickr page.
For more information, visit www.gbcorp.biz
Biodiesel is a domestic, renewable fuel for diesel engines that is gaining popularity as an alternative transportation fuel. Often made from agricultural co-products and byproducts such as soybean oil, other natural oils, and greases, it is an advanced biofuel that can be used in any blend with petroleum diesel fuel, potentially even in jet fuel. In all cases, tests show that biodiesel reduces most of the harmful emissions of standard diesel.

Source: www.gbcorp.biz