WEST REGION
$250,000 FCLF Loan
Line of credit for acquisition and renovation
To provide housing and supportive services for at-risk youth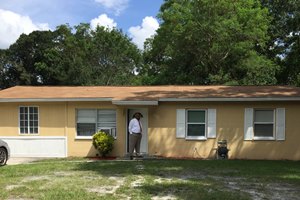 "The financing from FCLF allowed us to purchase our first home to continue our mission of providing quality housing for at risk youth and their families. Where no one believed in what we do, FCLF believed and provided!" – Michael Brown, Miracles Outreach Community Development Center
---
In 2015, Florida public schools reported over 73,000 students were homeless – 3,900 in Hillsborough County alone. Miracles Outreach Community Development Center focuses on children who are often the most troubled in our society – those who are homeless, have been abused, or were victims of human trafficking. Miracles Outreach provides a caring, nurturing, and safe home to children that come to the organization from child welfare agencies throughout Florida, often arriving severely troubled because of the situations that caused them to enter foster care. The organization has provided housing to over 800 youth ages 12-17 since 2006, and also provides counseling and needed care for these youth. Miracles Outreach regularly partners with local and state agencies such as the Department of Children and Families, Hillsborough County Schools, and Eckerd Youth and Family.
Florida Community Loan Fund provided a $250,000 line of credit to Miracles Outreach to purchase and renovate single family homes, with the first such home closed in November 2016. The FCLF financing generates savings for Miracles Outreach that will be used to further its mission, which includes helping persons with job training/counseling/placement; providing youth with mentoring, tutoring and other services; and serving youth who have aged out of foster care with emergency services (shelter, food, clothing).
With flexible financing terms provided by FCLF, Miracles Outreach will have an opportunity to convert loans from the line of credit to permanent financing once acquisitions and any renovations have been completed.
For more information, visit Miracles Outreach website www.miraclesoutreach.org.
Pictured above and below, samples of Miracles Outreach homes where housing and services are provided for hard to place foster youth.