Loans made through the Community Development Financing program have a direct impact on low- and moderate-income communities throughout the state of Florida. CDF Financing includes projects such as:
Affordable Housing (single and multifamily, for ownership or rent)
Supportive Housing
Community Facilities
Economic Development Projects
Florida Community Loan Fund (FCLF) offers flexible terms, which in most cases can be tailored to fit your project. In some cases, we can provide technical assistance as well, either through our staff or one of our partners.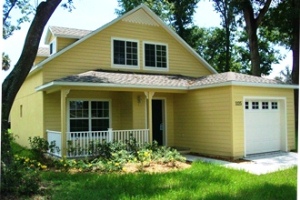 Meet our Borrowers and see the impact we have across Florida
Still have questions? Scroll down and read our FAQs for FCLF Lending.
If you think your organization may be able to benefit from FCLF's CDF Financing, read more information about our Application Process or Contact Us.
This institution is an equal opportunity provider.
FAQs for FCLF Lending
What do I need to know before I apply? Non-profit and for profit organizations must meet FCLF's mission and purpose tests. The application stops if the tests are not met.
Does FCLF take grant requests? FCLF does not issue grants, it makes loans to nonprofit organization and mission-focused for-profit entities to improve low- and moderate-income communities. From time to time there may be equity conversion available at the end of a loan term; Loan Officers will address this on a case by case basis.
Does FCLF make loans like a bank? Florida Community Loan Fund underwrites much like a bank in that it requires a complete financial picture of organization; project financial statements; and a complete understanding of all sources & uses of funds. FCLF looks for cash flow to repay its loans. However, FCLF also looks at things a bank does not - experience and reputation in the community count and social impact is important. FCLF may consider non-traditional collateral. FCLF considers more flexible loan structure. FCLF's rates and fees are typically comparable to bank rates for similar loans.
How much can I borrow and what at what rate? The maximum loan available for a single loan is currently $6.5 million. (Larger loan sizes may be available for real-estate secured projects through partnerships with other conventional and nonprofit lenders.) Rates are fixed and range from 5.125% to 8.00%.
Do you require collateral? What collateral is acceptable? Collateral is required. FCLF does not make unsecured loans. Most projects financed by FCLF Fund have real estate as collateral. Loan-to-value (LTV) will vary based on collateral type, but is typically in the 70% to 85% range.
How long does a loan approval take? The answer is highly variable depending on a number of factors. The FCLF Lending Committee generally meets monthly to review loan applications. However, the decision to bring a loan request to our Lending Committee rests with the Loan Officers and may require that the Borrower submit additional or revised information. This can sometimes cause delays in the approval process. The number of applications in process may also affect timing. For more information, click here and read about the Application Process.
What are the next steps if my application is approved? Once a loan is approved, a commitment letter is usually issued within 2-3 days. Simple closings can be done within 2 weeks after receipt of a signed commitment letter. Complex closings usually take longer, especially if attorneys are needed.
What is the purpose of the Commitment Letter? To outline the terms and conditions under which the Florida Community Loan Fund will lend and to create a checklist for closing the loan.