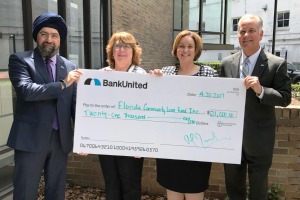 BankUnited awarded an operating support grant of $21,000 to Florida Community Loan Fund in April 2017. This operating support will help FCLF reach neighborhoods in BankUnited's footprint across Florida with flexible financing and staff expertise, and help diversify FCLF markets, products, and services.
Since 2010, BankUnited has been a partner with Florida Community Loan Fund in community development in Florida, providing grants, debt capital investment, and volunteer resources.
Pictured in the photo above (L-R): BankUnited President and CEO Rajinder P. Singh, FCLF CFO Tammy Thomas, BankUnited Vice President Amy Ouellette, BankUnited Central Florida Market President Michael McClanahan.
For more information on BankUnited and FCLF, click here to read the FCLF Investor Profile.
Learn more about this grant here in an article on CityBizList.com.
Below is the press release issed by BankUnited.
---
BankUnited Awards $21,000 Grant to Florida Community Loan Fund
BankUnited awarded a $21,000 grant to the Orlando-based Florida Community Loan Fund in support of the organization's initiatives that promote neighborhood revitalization in rural and low-income areas throughout the state.
"At BankUnited, we understand the challenges facing our communities and are proud to support organizations such as FCLF that provide opportunity and improve quality of life," said Claire Raley, senior vice president and community development officer.
Since 2010, BankUnited has provided grants, debt capital investment and leadership support to FCLF, which provides technical assistance and innovative financing to nonprofit and mission-based for-profit organizations for the development of affordable housing, supportive housing, community facilities, and other economic development projects.
During the last two decades, FCLF has provided $278 million in financing to approximately 150 organizations, resulting in more than 4,500 housing units for low-income Floridians, 117 community facilities, 150,000 Floridians receiving social services each year through FCLF borrowers, and more than 10,000 jobs created or retained.
"Through the continued support of valued partners such as BankUnited, FCLF is helping to drive positive economic and social change in communities throughout Florida, and delivering capital to areas most in need," said FCLF Chief Executive Officer, Ignacio Esteban.
About BankUnited, N.A. BankUnited, N.A., a national bank and wholly-owned subsidiary of BankUnited, Inc. (NYSE: BKU), is headquartered in Miami Lakes, Florida with 92 banking centers in 15 Florida counties and 6 banking centers in the New York metropolitan area at March 31, 2017. One of the largest independent depository institutions headquartered in Florida by assets, BankUnited provides a wide range of commercial and consumer banking services. For additional information, call (877) 779-2265 or visit www.BankUnited.com. BankUnited can be found on Facebook at facebook.com/BankUnited.official and on Twitter @BankUnited.