A discussion paper from the Federal Reserve Bank of Atlanta.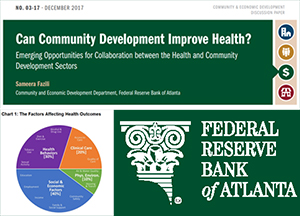 In a new discussion paper, the Atlanta Fed looks at emerging health and community development partnerships in the Southeast United States. These partnerships are driven, in part, by the health sector's recognition that clinical care accounts for only 20% of health outcomes. Instead, factors like income and housing ultimately drive health outcomes. Partnering with community developers offer the health sector the ability to address the social determinants of health.
Florida Community Loan Fund recognizes the significance of all aspects of a low-income community working together to improve residents' health. Our financing has gone into projects including housing, healthcare, community facilities, schools, and food access, to name a few.
In this paper authored by Sameera Fazili of the Federal Reserve Bank of Atlanta, Florida Community Loan Fund is recognized as a leading CDFI in the Southeast. FCLF's work and expertise in integrating community health center financing into an area is highlighted as a case study, through the example of Central Florida Health Care and the New Markets Tax Credit program.
To read more about Bridging the Health-Community Development Divide:
Click here to read a summary.
Click here to view the paper as a pdf.
To learn more about FCLF and Central Florida Health Care, click here.