Brixton Landing Apartments, an 80-unit affordable apartment community, is now accepting applications for senior housing. The apartment community, developed by Wendover Housing Group, is located in Apopka, Florida, in Orange County.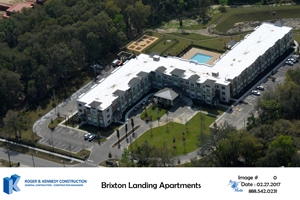 Florida Community Loan Fund provided $1.2 million in financing for Brixton Landing, recognizing the need for more affordable rental housing, and particularly for seniors as Florida's elderly population continues to grow.
The first residents are expected to move in in April 2017. More information on this property and the upcoming opening is available on Multi-Housing News website, or in a press release from Wendover Housing.
Pictured, aerial view of Brixton Landing Apartments, from Aero Photo and Roger B. Kennedy Construction.