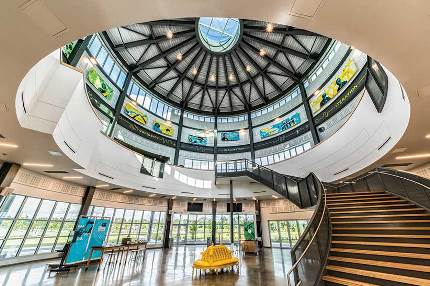 The Cade Museum for Creativity & Invention in Gainesville, Florida, has been selected for the Southeast's Best Project Award by the Engineering News-Record (ENR). The ENR assembled an independent group of judges to determine winners. The Cade Museum was nominated by Oelrich Construction.
The mission of the Cade Museum is to transform communities by inspiring and equipping future inventors, entrepreneurs, and visionaries. The Cade Museum for Creativity & Invention is the educational centerpiece and a key development catalyst in Gainesville's 32-acre Depot Park. The 21,000 square-foot facility and its programs connect low-income youth to academic resources and mentorship. By breaking down barriers to science and technology education it is creating a pipeline of educational and career opportunities.
The facility was financed through the New Markets Tax Credit Program, with tax credit allocation provided by Florida Community Loan Fund. NMTC is a Federal program created by Congress to encourage the flow of investments into low-income communities.
Learn more about the ENR Best Project Award:
Oelrich Construction website
ENR Southeast Blog
Learn more about FCLF and Cade Museum.