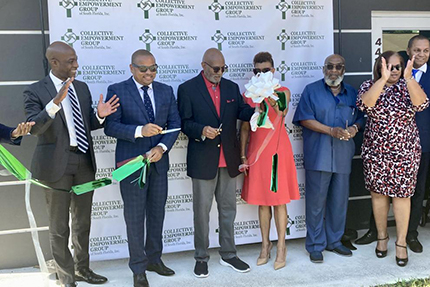 Collective Empowerment Group of South Florida (CEG) held a ribbon cutting on May 9 on its first completed home. CEG helps build wealth through homeownership in underserved communities of color. The ribbon cutting event celebrated a partnership that aims to transform lives and create sustainable homes.
The new homeowner is a single mother who has been waiting for years to have her own home. Prior to purchasing her first home she completed homebuyer certification training, which qualified her for a subsidy and helped her learn to manage money and balance a household budget.
The Collective Empowerment Group of South Florida, Inc. (CEG) was formed in 2005 by a group of local churches in South Florida, with the original purpose of providing homebuyer training, credit counseling services, and enhancing fairness in lending practices. The CEG focus is on promoting home ownership – as opposed to rentals – to allow low- and moderate-income families to build family wealth and long-term financial independence through accumulation of home equity values.
Florida Community Loan Fund provided financing through a line of credit that will allow CEG to build an estimated 26 affordable homes in Miami, with a focus on Brownsville and Liberty City.
Learn more about FCLF and CEG here.
CEG ribbon cutting in the news:
The Miami Times, May 10, 2023: Affordable housing initiative unveils first home.
CBS News Miami, May 9, 2023: Brownsville community group makes dream of homeownership a reality.
Pictured above, The Collective Empowerment Group of South Florida and Miami-Dade County leaders, including County Commissioner Keon Hardemon, cut the ribbon for a new Brownsville home built through the CEG's housing initiative. Photo credit: Johania Charles for The Miami Times
---
The following is text from an article in The Miami Times:
The Miami Times, May 10, 2023: Affordable housing initiative unveils first home.
Almost six years after Miami-Dade County awarded 26 infill lots to the Collective Empowerment Group of South Florida (CEG) for an affordable housing initiative, the faith-based organization on Tuesday unveiled the first three-bedroom, two-bathroom home to be completed on one of the more than two dozen vacant lots.
The property, located at 4420 NW 30th Ave., is owned by a single mother and former drug addict who lost her son to gun violence several years ago. CEG says the buyer will remain anonymous for her protection.
"It's not about just building houses, it's about building Black wealth," said Joaquin Willis, CEG president and senior pastor at Church of the Open Door, at a press conference early Tuesday. "We have too many rental houses, they're making people poor. This woman will come in this house with equity beyond your imagination."
According to Willis, three homes – built by Vernon Quinn – have been constructed in total but only the Brownsville location was sold and awaits the homeowner's arrival.
"The intention behind this was to get about an empty lot or two, or so I thought, to build affordable homes," Willis told The Miami Times. "We ended up with 26 lots. This is the first lot to be completed by the collective. I can't even begin to tell you how many people are in line and ready to buy … We don't have to look for buyers, they're looking for houses."
The single mother had been waiting about five years to move into a CEG home.
Founded in 2005, the CEG was created by a group of local churches with a goal of providing homebuyer training and credit counseling services to members of the community. Through a partnership with Florida Community Loan Fund, Collective Developers LLC, CEG's development arm, planned to build numerous low to moderate income single-family, duplex or fourplex homes in neighborhoods with poverty levels above 30%.
"So many of us young people who are born and raised in these areas, we were almost taught to leave for a better life," said District 3 County Commissioner Keon Hardemon. "What we have to be able to communicate to everyone is that you should stay for a better life. No one should have to leave their community … We have an opportunity to continue to build Black wealth."
Willis estimates three more homes will be completed soon, totaling six homes built through CEG's initiative.