Florida Community Loan Fund finances Affordable Homes in South Florida
A loan to Neighborhood Housing Services of South Florida provides new affordable homes.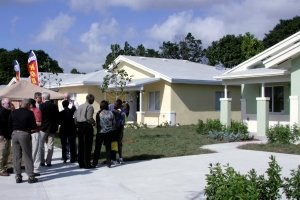 Empowering individuals, creating affordable housing opportunities, and revitalizing neighborhoods in South Florida - these are the building blocks upon which Neighborhood Housing Services of South Florida (NHSSF) is founded. NHSSF is a non-profit organization that helps families find a home, providing them with a foundation and sense of security.
With financing from the Florida Community Loan Fund (FCLF) and other public and private support, NHSSF has been able to expand their vision of safe, affordable homes in South Florida.
DuPUIS POINTE, MIAMI
FCLF Loan for 27 New Affordable Homes
In one of Miami-Dade County's most economically distressed neighborhoods, a tract of land had been sitting vacant for over 15 years. Financing from FCLF's Community Development Fund provided the infrastructure for DuPuis Pointe, where NHSSF is transforming the area by building 27 new, affordable, single-family homes. These homes incorporate hurricane preparedness and energy efficiency, including windows, appliances, light fixtures, water-saving faucets and showers, low VOC paint and native landscaping. The Green features qualified NHSSF for FCLF's reduced interest rates. Additional funding is from the Miami-Dade NSP-2 Program.
The first 5 homes at DuPuis Pointe were unveiled on December 14 at an event attended by Miami-Dade Commissioner Jean Monestime. These 3- and 4-bedroom homes, pictured at right, are the first new construction in over 10 years in the Gladeview neighborhood of unincorporated Northwest Dade.
---
We invite you to learn more about FCLF, our lending programs, borrowers and investors. For more information about the Florida Community Loan Fund visit our website at www.fclf.org, and you can follow FCLF on Facebook and Flickr.
If you would like to receive articles similar to this by e-mail, sign up for our mailing list.
You can click here to view this information in a browser.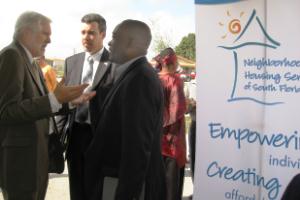 About the Florida Community Loan Fund. FCLF provides flexible capital and technical assistance, primarily to nonprofit organizations working in community development, through its three financing programs: Community Development Fund, Florida Preservation Fund, and New Markets Tax Credits. Since it began lending in 1996, FCLF has originated more than $100 million in low-cost credit to projects throughout Florida and has leveraged an additional $400 million in loans and grants from various public and private sources for those projects. FCLF has a broad range of investors including most major financial institutions operating in Florida, individuals, religious investors, national foundations and trade associations. FCLF is certified both as a Community Development Financial Institution and a Community Development Entity, and is a member of Opportunity Finance Network.
Neighborhood Services of South Florida. Neighborhood Housing Services of South Florida (NHSSF), formerly MDNHS, was created in 1978 by residents, lenders and county government representatives of the West Little River neighborhood in Miami-Dade County. Established as a 501(c)(3) community revitalization organization, NHSSF is a chartered member of NeighborWorks® America, a congressionally chartered national network of community-based organizations.