Florida Community Loan Fund finances Affordable Homes through Habitat for Humanity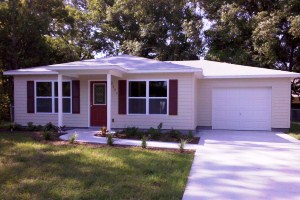 Habitat for Humanity of Lake-Sumter, Florida has built homes in 19 communities throughout central Florida, and will celebrate its 200th on Veterans Day with a home for a disabled Vietnam Veteran. Over the past year, Habitat Lake-Sumter placed 16 families in safe, affordable homes. Some of the homes are new and others are renovated, and all include energy-saving features. To be eligible for a new home, families must be low-income, qualify for a Habitat affordable mortgage, attend classes in budgeting and good neighbor practices, and be willing to work on construction of their home as well as other homes. The program is also sponsored by area churches, foundations, and corporations, who pledge funds as well as volunteer hours.
With a loan from FCLF, Habitat Lake-Sumter will be able to build up to 16 new affordable homes, all of which will be built to Florida Green Building Coalition standards. The Green certification makes Habitat eligible for FCLF's lower interest rates. The loan, in the form of a line of credit, will enable Habitat to cover construction costs for which it has pledges from corporate and other sponsors. In this way, the loan proceeds will be used over and over, as Habitat works toward helping Central Florida families realize their dream of home ownership.
FCLF is pleased to partner with Habitat for Humanity of Lake-Sumter, its first loan to a Habitat affiliate. As of June 2012, FCLF has made 169 loans to organizations throughout Florida, impacting over 15,000 low-income residents and providing over 3,000 jobs. The organization has also been a part of 8 New Markets Tax Credit (NMTC) projects, which have provided an additional 1,200 jobs and encouraged economic development in low-income neighborhoods.
We invite you to learn more about FCLF, our lending programs, borrowers and investors. For more information about the Florida Community Loan Fund, visit our website at www.fclf.org.
---
About the Florida Community Loan Fund. FCLF provides flexible capital and technical assistance, primarily to nonprofit organizations working in community development, through its three financing programs: Community Development Fund, Florida Preservation Fund, and New Markets Tax Credits. Since it began lending in 1996, FCLF has originated more than $100 million in low-cost credit to projects throughout Florida and has leveraged an additional $360 million in loans and grants from various public and private sources for those projects. FCLF has a broad range of investors including most major financial institutions operating in Florida, individuals, religious investors, national foundations and trade associations. FCLF is certified both as a Community Development Financial Institution and a Community Development Entity, and is a member of Opportunity Finance Network.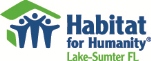 Habitat for Humanity of Lake-Sumter, Florida is a Christian ministry dedicated to partnering with families and the community to create simple, decent, affordable housing for people living in sub-standard and over-crowded conditions beyond their control. The organization, a subordinate of Habitat for Humanity International, was founded in 1989 in Lake County, and joined with the Sumter County affiliate in 2007. To learn more, visit www.habitat-lakesumterfl.org