FCLF and Habitat for Humanity Lake-Sumter work together on Eustis Projects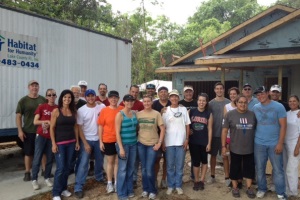 Cindy Ross, FCLF Community Development Loan Officer, and Kent Adcock, CEO of Habitat for Humanity of Lake-Sumter, were recently featured in the Eustis Daily Commercial speaking about Habitat projects in Eustis, Florida.
Habitat for Humanity of Lake-Sumter, FL was the first Habitat affiliate to obtain financing through FCLF. An FCLF loan allowed the organization to acquire a building for the Domestic Global Village, and renovations are underway to transform it into hostel-style lodging where volunteers can stay while working on Habitat and other area non-profit projects. In addition to this facility, FCLF is also helping Habitat Lake-Sumter build up to 16 new affordable homes. The construction line of credit provides cash flow to cover construction costs until receipts of pledges from corporate and other sponsors.
A portion of the article, written by Theresa Campbell, Staff Writer for the Daily Commercial, appears below. To read the full article, visit the Daily Commercial website.
Click
here
to read more about Habitat for Humanity Lake-Sumter and FCLF.
See more photos of Habitat for Humanity Lake-Sumter on our
Flickr page
.
---
Nonprofit lender provides mission funding
Cindy Ross, community development loan officer for a nonprofit lender, beamed as she toured several Habitat for Humanity projects in Lake County earlier this week.
She has been wanting to partner with Habitat for years, the ecumenical, Christian ministry dedicated to working with families and communities to create simple, decent, affordable housing for people living in sub-standard and overcrowded conditions beyond their control.
Ross is pleased that her Orlando-based employer, Florida Community Loan Fund, which has several offices throughout the state, has provided Habitat with $336,000 to acquire and renovate a 14,100 square foot facility in Eustis, the former annex of Bay Street Baptist Church that will serve as a 100-bed hostel.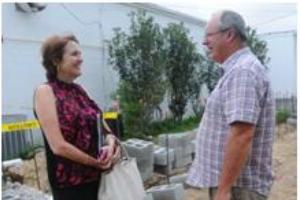 "They are our first Habitat and since then, we have closed with another Habitat group in South Florida," Ross said. "The reason that our organization loves this, and we do a lot on housing and low income housing, but I love that they are not just serving Habitat, but that they are serving the community."
Kent Adcock, chief executive officer for Habitat for Humanity Lake-Sumter, praised FCLF for its partnership.
"We started looking at this idea of a village, and we asked 'What is the possibility? So they helped us in the acquisition of the facility," Adcock said.
Pictured, Cindy Ross and Kent Adcock. Photo by Theresa Campbell, Daily Commercial.