Florida Community Loan Fund Opens New Office in Tampa
We've Moved!
The Florida Community Loan Fund Tampa office has relocated. Please make a note of our new address and phone number:
1207 North Franklin Street, Suite 216
Tampa, Florida 33602-3304
Phone 813.223.7400
Fax 813.223.7499
The Florida Community Loan Fund is pleased to announce a new downtown location for our Tampa office. The new site will provide working and meeting space for the Loan Fund's Director of Lending, Nelson Black, and for Community Development Loan Officer Cindy Ross.
"With my return to Tampa Bay," said Nelson Black, "it was the right time to increase our public presence in a region where the Loan Fund has a long history of work with organizations that need funds to improve service to their clients. Our new downtown Tampa office provides a great location from which to do so."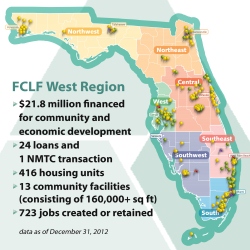 While our administrative staff continues to operate from our main office in Orlando, the Tampa office lending team is in place and ready to work with organizations in West Florida (such as Bay Life Academy shown below), as well as reach out to new friends in the Tampa Bay area and beyond who are transforming communities around the Sunshine State.
Through December 31, 2012, FCLF impact in West Florida alone has included…
financing $21.8 million in community and economic development projects
resulting in more than 400 affordable homes and apartments and 13 community facilities,
creating or retaining 723 jobs.
(To see more information on FCLF's Statewide Impact, click here.)
We invite you to learn more about FCLF, our lending programs, borrowers and investors. For more information about the Florida Community Loan Fund, visit www.fclf.org, or follow us on Facebook, Flickr, LinkedIn, and Google+.
---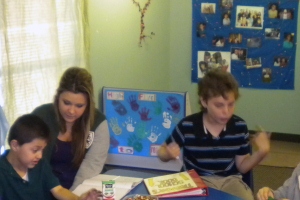 FCLF IN WEST FLORIDA: Bay Life Academy, Seffner
Students with special needs often have difficulty finding a quality education that meets their specific educational plan. Bay Life Academy, located in Seffner, Florida, provides just such an educational environment, operating schools for children in grades K-8 with special needs, and serving predominantly low-income students. Named the Best Private School in the Greater Brandon area, its programs challenge students in areas of strength and guide them in areas of need. Bay Life has been at maximum student capacity for the past 3 years. With a loan from FCLF, Bay Life purchased its previously leased building, and will add more classrooms and a lunch room, allowing the school to reach even more special needs students.
FCLF LOAN $900,000 for Acquisition and Construction.
---