Camillus House Case Study featured at CohnReznick NMTC Summit
Click here to view the CohnReznick Case Study video on Camillus House.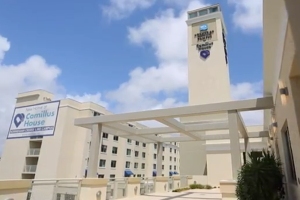 The Camillus House, a human services facility in Miami, was featured in a video at the CohnReznick NMTC Summit this week in Miami. Camillus House in Miami has provided health and social services to homeless and low-income men, women and children throughout Miami-Dade County since 1960. In 2010, Camillus House was given the opportunity to consolidate several of its key programs onto a single site located in a distressed city center redevelopment area. To help provide funding, the project used the New Markets Tax Credit (NMTC) Program, with $20 million in allocation provided by the Florida Community Loan Fund, or FCLF. The investor on the project is NorLease, Inc. The lender is Northern Trust Company. The Camillus House project is an integral part of the City and County revitalization plans for the area.
CohnReznick, LLP advises clients by providing resources, technical skills, and deep industry knowledge. Aligned in three segments, Accounting and Assurance, Tax, and Business Advisory, CohnReznick provides a range of services to help businesses succeed. In the area of NMTC, CohnReznick provides application preparation and submission, structuring around state and local tax issues, preparation of tax returns, and compliance and reporting advice and systems.
The CohnReznick Annual NMTC Summit takes place in Miami this week. In addition to educational seminars and speakers, the Camillus House Case Study video was premiered as a part of Tuesday's programming.
To view more photos of Camillus House, visit FCLF's Flickr page.
CohnReznick website: www.cohnreznick.com
Camillus House website: www.camillus.org