Florida Community Loan Fund closed its latest New Markets Tax Credit (NMTC) project this week: the $21 million Armature Works project in Tampa, which includes The Heights Market Hall and Gathering.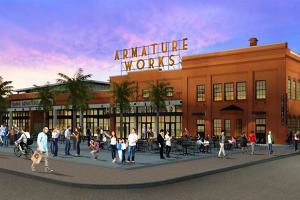 Highlights of this project include:
68,000 sq ft renovation of historic building that was once storage & maintenance for streetcars
Indoor food hall and farmers market in USDA Food Desert
20+ emerging small businesses provided with low rental rates and shared space with state of the art technology
750+ jobs created or retained
On site job training, employment counseling, nutrition/healthy foods training
"Projects such as Armature Works are integral to the revitalization of the Tampa Heights Riverfront District and help extend needed development northward from downtown Tampa into adjacent neighborhoods," said Nelson Black, FCLF Chief Lending Officer. "The Armature Works project will bring significant job creation, stimulate local business, and provide fresh food access in the community."
Florida Community Loan Fund provided $20 million in NMTC allocation for the Armature Works project. U.S. Bancorp Community Development Corporation and USAmeriBank are investors on the project. The developer is SoHo Capital.
The New Markets Tax Credit, or NMTC, Program encourages economic development in distressed neighborhoods. To date, FCLF has been awarded $271 million in Federal NMTC allocation authority, financing high social impact projects totaling $490 million in project costs and providing 4,900 jobs in low-income census tracts.
Pictured above, rendering of Armature Works upon completion.
Below, Armature Works site construction progress; plans are to open in 2017.
To learn more about FCLF and Armature Works, click here.
---
About Florida Community Loan Fund. FCLF provides financing and technical expertise to improve low income communities in areas such as safe, affordable housing ‒ homeless & special needs facilities ‒ education & healthcare facilities ‒ commercial & retail space to encourage new local businesses ‒ access to fresh, healthy foods. For 20+ years, FCLF has helped over organizations in Florida achieve success in their projects and missions. FCLF is nationally recognized for its work as a certified CDFI and CDE through the U.S. Department of Treasury and as a member of the Federal Home Loan Bank of Atlanta. FCLF has financed $278 million through 260 loans in Florida, making possible over $877 million in new investments in low-income communities. We look forward to continuing to build strong communities in Florida through NMTC and other projects that provide high impact in low-income areas.