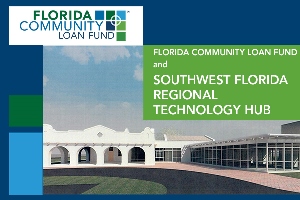 Florida Community Loan Fund recently closed its latest New Markets Tax Credit (NMTC) project: the $10 million Southwest Florida Regional Technology Hub, located in Ft. Myers, Florida.
The Tech Hub will renovate an historic train station building in midtown Fort Myers, offering rental space for up to 10 area companies with a focus on technology, community and economic development, and matching area residents to tech jobs.
"The Tech Hub project has brought together the City and the SW Florida Community Foundation in partnership to reach beyond the city center into historically underserved neighborhoods," said Nelson Black, FCLF Chief Lending Officer. "In addition to the new services and meeting space available to the community, financing through the NMTC Program will transform this historic train station building into an asset for the future."
The Tech Hub, upon completion, will provide:
2 buildings and 21,000 square feet of office space and shared hot desks for up to 10 local businesses,
Creation or retention of 56 permanent and 282 construction jobs,
A state-of-the-art technology hub available to both residents and businesses,
Employment training and tech job matching for 200 annually,
Home ownership counseling for 300 annually.
Florida Community Loan Fund provided $10 million in NMTC allocation for the Southwest Florida Regional Technology Hub project. U.S. Bancorp Community Development Corporation is investor on the project. Whitney Hancock Bank provided additional financing.
"We are extremely excited about this project, public/private partnership with the City and the possibilities this brings for the midtown neighborhood," said Sarah Owen, President and CEO of SW Florida Community Foundation. "We like to call this a 'collaboration accelerator' that is powered by technology, funding and good ideas to create change in our region. It's old historic rail meeting new innovative rail."
"This is a fantastic project because it gives U.S. Bank the opportunity to support the restoration of an important historical building, spark new economic development in a growing region and partner with a visionary non-profit," said Jennifer Westerbeck, Vice President of U.S. Bancorp Community Development Corporation, a division of U.S. Bank.
The New Markets Tax Credit, or NMTC, Program encourages economic development in distressed neighborhoods. To date, FCLF has been awarded $271 million in Federal NMTC allocation authority, financing high social impact projects totaling $470 million in project costs and providing 4,000 jobs in low-income census tracts.
Learn more about FCLF and the SW Florida Regional Technology Hub here.
Pictured above, rendering of the Tech Hub upon completion.
Below, Fort Myers historic train station building prior to renovations.