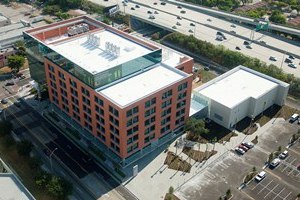 Florida Community Loan Fund (FCLF) is pleased to announce a New Markets Tax Credit (NMTC) allocation award of $30 million from the U.S. Treasury CDFI Fund. The awards were announced this week by Deputy Secretary of the Treasury, Neal Wolin. FCLF is the only Florida entity to have received this award of tax credit allocation authority during the current round.
FCLF received its first NMTC allocation award in 2003, and with this most recent award of $30 million it now has four awards totaling $111 million. These allocations have benefited 8 projects that include 3 charter schools, 2 health related facilities, and 3 green projects - one will produce solar energy, another will use wood waste residuals to produce a recycled coal substitute product which can be used in coal-fired power plants.

In addition to the economic stimulus created in the neighborhoods by these projects, over 2,500 jobs have been provided to the residents in the severely distressed census tracts in which they are developed. The projects financed through FCLF's NMTC Program enhance the organization's mission of ensuring critically needed financing to low-income communities and the families that live, work and play in those communities. This allocation award cements FCLF's position as Florida's most active and accomplished NMTC entity.

"New Markets Tax Credits are an important part of our three-program lending strategy. Together, these three programs have created significant social impact throughout the state of Florida," said Nelson Black, Director of Lending of FCLF. "This most recent allocation of $30 million allows our organization to continue to provide jobs, encourage economic development, and provide community services to low-income neighborhoods. We were the only Florida-based entity selected for an award in this round; and we are proud to have been recognized for our work by the CDFI Fund."

"For so many vital economic development projects across the country, the New Markets Tax Credit has been a critically important piece of the puzzle," said Deputy Secretary Wolin. "This targeted tax credit has a strong record of spurring economic growth in low-income and distressed communities across our country."

The award process this year was more competitive than ever. The CDFI Fund received 314 applications for a total of $26.7 billion. Of those 314, 70 were chosen to receive $3.6 billion in awards.
For more information:
About FCLF, visit our website at www.fclf.org.
About the CDFI Fund, visit their website at www.cdfifund.gov.
To view this announcement in your web browser, click here.