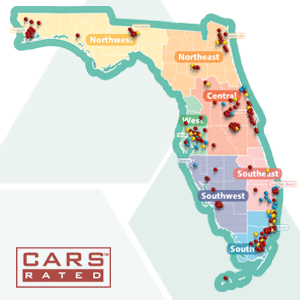 FCLF Receives CDFI Fund Award, $750,000 in Unrestricted Capital will Increase Lending for Community Development Projects Across Florida
The Florida Community Loan Fund (FCLF) has received a $750,000 Capital award from the Community Development Financial Institution (CDFI) Fund of the U.S. Treasury Department. The funds will allow the nonprofit financial institution to expand its lending programs in support of organizations that create affordable housing, supportive housing, community facilities and economic development opportunities in distressed communities throughout Florida.
FCLF will combine this unrestricted capital with equity from other sources to leverage private capital that will result in over $38 million in financing to community development projects over the next three years. Over that period, FCLF financing will produce 800 affordable housing units and 72,000 square feet of community facilities serving low and moderate income Floridians. More than 13,000 Floridians in need will receive services, and the financing will retain or create up to 3,200 jobs. During the next 12 months, FCLF will deploy $9 million in new financing, to bring its total cumulative lending for community development in Florida to nearly $50 million.
"Since inception FCLF has delivered capital to improve neighborhoods and communities where access to credit is difficult," said Ignacio Esteban, Executive Director of the Florida Community Loan Fund. "As the economy has worsened, the challenges we work every day to solve have become more complex and widespread. This federal support allows us to grow our capacity to reach those organizations that work with Florida's most vulnerable populations and hardest hit areas."
FCLF was one of two organizations in Florida to receive funding from the CDFI Fund FA/TA program this year. Since its first CDFI Fund award in 1998, FCLF has secured over $4.7 Million through the program, consistently ensuring this important federal resource is effectively put to work on behalf of organizations that support low- and moderate income Floridians statewide.
For more information about the CDFI Fund Awards visit the CDFI Fund website.