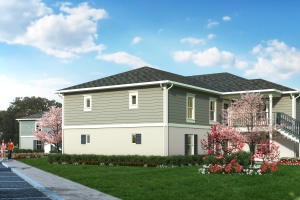 The Federal Home Loan Bank of Atlanta has announced $20 million in awards as part of its 2017 Affordable Housing Program (AHP). Click here to read the full press release on this competitive awards program. The AHP Awards will create, improve or preserve 3,108 affordable housing units in 16 states and the District of Columbia. Applicants for these awards must work with an FHLBank Atlanta member financial institution to complete the AHP Competitive program application.
Ability Housing, headquartered in Jacksonville, was one of only 6 Florida organizations that received an AHP Award. The $500,000 award will be used toward the renovation of Wayne Densch Center, offering emergency and transitional housing to formerly homeless individuals in Orlando. When completed, the property will have 77 affordable apartments, and housing will be linked with individualized, voluntary support systems which have proven to stabilize formerly homeless persons.
Pictured above, a rendering of the Wayne Densch center upon completion.
Florida Community Loan Fund, as a member of the FHLBank Atlanta, worked with Ability Housing on its AHP application. FCLF has committed to partner on the Wayne Densch Center by providing financing for renovation that will preserve this property as affordable housing. Other public and private fund sources include Orange County Government, the Central Florida Foundation, and Florida Hospital.
Learn more about the Wayne Densch Center in these articles:
Ability Housing website, Wayne Densch Center
Orlando Sentinel, Wayne Densch Center
To see a full list of the FHLBank Atlanta 2017 AHP Awardess, click here.
Florida Community Loan Fund is a member of the Federal Home Loan Bank Atlanta.