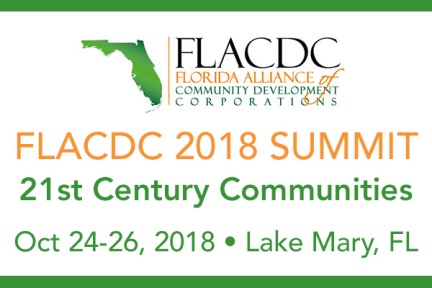 The Florida Alliance of Community Development Corporations – FLACDC – will hold its 2018 Summit October 24-26, 2018, in Lake Mary, Florida. FLACDC is a statewide membership organization for community-based development organizations, other nonprofits, partners and investors that serve and work in low- and middle-income communities across the state. This year's Summit will provide a venue for members and other Florida nonprofits to obtain training in areas of interest, learn about industry trends and discuss the future of community and economic development in Florida.
The 2018 FLACDC Summit will include workshops and general sessions such as:
Opening Plenary. Healthy, Equitable Communities: In a perfect world, everyone would live in beautiful, safe and healthy communities. Panelists, Abbey Cofsky, Robert Wood Johnson Foundation and Kelley Sams, Creating Healthy Communities: Arts + Public Health in America at UF will share how to help create the beautiful, healthy communities we all want to live in.
The Office of the Comptroller of Currency (OCC) Workshop*. The OCC has proposed rule changes to the Community Reinvestment Act (CRA) that could have a detrimental effect on underserved communities across the nation. An Advanced Notice of Proposed Rulemaking (ANPR) was recently released, which opens a public comment period of 75 days (until November 19). Representatives from the OCC and National Community Reinvestment Coalition will discuss these proposed rule changes at an important policy session.
In a Perfect World. Workshops around this theme will also include Florida in the 21st Century, presented by Tony Carvajal, FL Chamber Foundation; Financial Equity and the Community Reinvestment Act; and 21st Century Communities - The Perfect World?
Getting the Word Out: Communication is the Key. Communication and marketing experts will share practical tips and best practices that your organization can implement. FCLF's Communications and Marketing Manager Janet de Guehery will be on the panel.
Learn more about the FLACDC Summit:
Click here to view the agenda.
Click here to register for the Summit.
Florida Community Loan Fund is a sponsor of the 2018 FLACDC Summit.
*FLACDC will provide materials at the Summit but if you want to review the proposed changes and comments about them prior to the session, you can download the Federal Register Notice and check out NCRC's comments at https://ncrc.org/treasurecra/