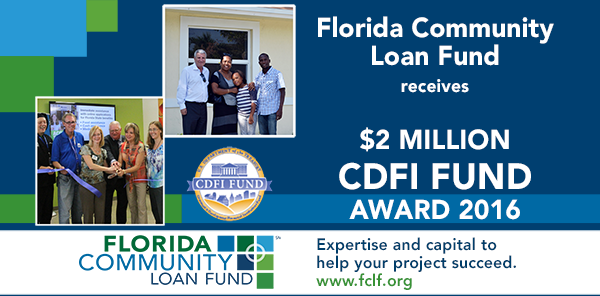 Florida Community Loan Fund is pleased to announce that we have received a $2 million award from the U.S. Department of Treasury Community Development Financial Institution (CDFI) Fund. This Financial Assistance award will be used to help achieve FCLF's strategic plan goals:
increase financing;
diversify lending;
build organizational capacity and maintain strong financial position;
add value to community development in Florida through financing, expertise, and policy work.
In Florida, only 4 CDFIs received FA awards. Of these 4, Florida Community Loan Fund received the largest amount, at $2 million ‒ bringing our total cumulative FA and HFFI awards to $13.1 million. The award program is highly competitive: in this FY2016 award round, a total of 457 applications were received and only 158 organizations were awarded. Total award application requests were $675 million and the final awards total $170 million.
"The $2 million CDFI award will allow FCLF to continue to address affordable housing needs statewide," said Ignacio Esteban, FCLF CEO. "It will also expand our coverage to address other needs of low-income Floridians, by financing community facilities for health, education, and food access."
For 20 years Florida Community Loan Fund has successfully carried out our mission to provide flexible capital in low-income communities throughout Florida. FCLF is Florida's only statewide CDFI, with over 250 loans closed in 32 counties where 90% of Floridians live. FCLF is focused on providing capital to community development organizations: both nonprofit and mission-focused for-profit. In many cases, we work with other sources, including banks and government, to make successful community development projects possible.
To learn more about FCLF and the projects we lend for, visit Meet Our Borrowers. To view our Strategic Plan goals, click here.
To see the list of FY2016 CDFI Award Recipients, click here. To learn more about the CDFI Fund Awards, visit www.cdfifund.gov.
About Florida Community Loan Fund. Florida Community Loan Fund is a nonprofit, multifaceted financing entity with a 20+ year history of providing flexible capital and expertise to low income communities across Florida. FCLF is nationally recognized for its work as a certified CDFI and CDE through the U.S. Dept. of Treasury and as a member of the Federal Home Loan Bank of Atlanta. FCLF has financed $250 million through 250 loans in Florida, into projects totaling more than $830 million. For more information, please visit www.fclf.org.
About the CDFI Fund. Since its creation in 1994, the CDFI Fund has awarded more than $2.2 billion to CDFIs, community development organizations, and financial institutions through the CDFI Program, the NACA Program, the Bank Enterprise Award Program, the Capital Magnet Fund, and the Financial Education and Counseling Pilot Program. In addition, the CDFI Fund has allocated $43.5 billion in tax credit allocation authority to Community Development Entities through the New Markets Tax Credit Program, and $852 million has been guaranteed in bonds through the CDFI Bond Guarantee Program. To learn more about the CDFI Fund and its programs, please view the Fact Sheet or visit the CDFI Fund's website at www.cdfifund.gov.