Florida Housing Coalition Opens Nominations for SHIP Awards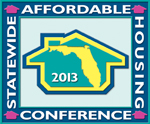 The Florida Housing Coalition is holding a competition to highlight the tremendous value of SHIP across the State of Florida at this year's annual affordable housing conference. Getting your story out can help restore annual funding for SHIP.
The deadline for submitting nominations is July 19, 2013. The winners will be chosen by July 31, 2013.
Below is a listing of the Nomination Categories. Full details are availableon the Florida Housing Coalition's website.
Florida Community Loan Fund, FCLF, is proud to be a Member of the Florida Housing Coalition at the Co-Sponsor Level.
---
SHIP Award Nomination Categories:
Special Needs Housing Assistance: This award will highlight a project, program or family that received SHIP funds for special needs housing, including the elderly, individuals with developmental disabilities, veterans, homeless individuals, etc. Both single family and multifamily projects will be considered.
Outstanding Repair/Rehabilitation Program: This award will highlight assistance provided to an owner occupied single family or multifamily household or project assisted with SHIP funds. This category includes reconstruction of housing and retrofits for energy efficiency and/or accessibility.
Outstanding Purchase Assistance Program: This award will highlight a purchase assistance program that can be modeled for best practices or has changed the life of a family who received assistance.
Partnership of the Year: This award will highlight a project that uniquely leverages SHIP funds with other sources, including activities or projects carried out under an interlocal agreement between a SHIP county office and one or more cities and partnership with organizations.
Outstanding Housing Assistance: This general award may be given for the most creative or unique assistance carried out with SHIP funds. This includes all eligible SHIP program activities.