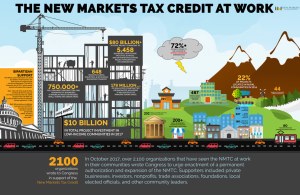 Last week over 2000 organizations joined together from across the nation to urge the U.S. Congress to make the New Markets Tax Credit (NMTC) permanent as part of tax reform legislation.
121 Florida organizations are among the 2100 entities nationwide that signed a letter supporting NMTC permanency on October 12, 2017.
Florida Community Loan Fund has been a participant in the NMTC Program since 2003. FCLF NMTC projects have deployed $207 million in allocation to 20 projects representing $491 million in investments in Florida low-income communities; creating or retaining 4,593 jobs and building or renovation 1.5 million square feet of facilities in distressed census tracts.
Congress established the New Markets Tax Credit in 2000 in the Community Renewal Tax Relief Act, a bipartisan effort to stimulate investment and economic growth in low-income urban neighborhoods and rural communities left behind by the economic downturns of the 1980s and 1990s. Over the last decade and a half, the NMTC has unleashed more than $80 billion in total project financing for manufacturing expansions, new hospitals and health clinics, small business loan funds, and other important revitalization projects. These investments generate over 60,000 jobs annually at a cost to the federal government of only $20,000 per job.
Why Do We Support NMTC? Because it…
IT WORKS. Created nearly 750,000 jobs. From 2003-2015 delivered over $42 billion in capital to distressed communities, in both urban (80%) and rural (20%) communities with extremely high rates of poverty and unemployment. (

1)

PAYS FOR ITSELF. NMTC investments in businesses in low-income communities and jobs created by those businesses generated over $984 million in federal tax revenue in 2012, more than enough to cover the $800 million cost of the program in the same year.

(2

)

ANSWERS TO LOCAL MARKET INTERESTS AND PRIORITIES. Instead of Washington picking winners and losers, NMTC places the project underwriting responsibility with community development entities (CDEs) with deep ties to the communities in which they work and supports projects that "but for" the credit could not be achieved.

(3

)

OFFERS A PROVEN METHOD FOR LEVERAGING PRIVATE CAPITAL INVESTMENT. From 2003- 2015, NMTC direct capital investments leveraged nearly $80 billion in total capital investments. According to the U.S. Department of Treasury, every $1 in foregone tax revenue generally leads to $8 in private capital investment in distressed communities.

(4

)

IS ONE OF THE ONLY MARKET DRIVEN RESOURCES AVAILABLE FOR COMMUNITY REVITALIZATION. Over the last 40 years Federal spending on community development, as measured by a share of GDP, has dropped by 75%. As a result, there is tremendous pent up private investment demand for NMTC. From 2003-2015, NMTC applications totaled over $315 billion versus $50.6 billion in total credits awarded.

(

1)
---
THANK YOU to these Florida organizations who signed on to the NMTC Coalition letter to Congress. To learn more visit www.nmtccoalition.org or read the press release here http://nmtccoalition.org/2017/10/18/thousands-of-organizations-urge-congress-to-save-nmtc-in-tax-reform/
Acquire International, Miami • Affordable Homeownership Foundation Inc., Fort Myers • Anchor Housing Development, Pompano Beach • Armature Works, Tampa • ASPIRA of Florida, Miami • Atlantic Coast Energy Corporation, Miami • Beck Group, Tampa • Beth-El Farmworkers Ministry, Wimauma • Black Business Investment Fund, Orlando • Boley Centers, Inc., St. Petersburg • Boynton Beach CRA, Boynton Beach • Brevard County, Viera • Brevard Neighborhood Development Coalition, Satellite Beach • Burnette Construction, Tallahassee • Cade Museum, Gainesville • Camillus House, Miami • Capital Trust Agency, Gulf Breeze • Care Resource Community Health Centers, Miami • Central Community Redevelopment Agency, Bradenton • Central Florida Health Care, Winter Haven • Cesery Companies, Jacksonville • CFO Bean Team, Tallahassee • City of Fort Myers CRA • City of Lakeland • City of Lauderdale Lakes • City of Leesburg, FL • City of Melbourne • City of Palm Bay Florida • City of Riviera Beach • City of Sanford • City of Sunrise Community Development Dept. • City of Tampa • Clara White Mission, Jacksonville • Collier County Government Code Enforcement • Community & Economic Development, Lake Worth • Community Action Stops Abuse (CASA), St. Petersburg • Community Concepts Group, Tallahassee • Community Enterprise Investments, Pensacola • Community Hospitality Healthcare Services, Placida • Community Maritime Park Associates, Pensacola • Community Reinvestment Alliance of South Florida, Miami • Corinthian Companion Care, Miami • Covenant Homeless Family Shelter, Homestead • Delray Beach CDC • Dominican Sister of Adrian, West Palm Beach • Florida Alliance of CDCs, Jacksonville • Florida Candy Factory, Clearwater • Florida Community Loan Fund, Orlando • Florida Home Partnership, Ruskin • Florida Interfaith Network in Disaster, Bonifay • Florida Nonprofit Housing, Sebring • Florida Non-Profit Services, Naples • GIM Associates, Tampa • Good News Outreach, Tallahassee • Grace and Truth Community Development Corp., Jacksonville • Green Biofuels, Miami • Habitat for Humanity of Florida, Clearwater • Habitat of St. Augustine/St. Johns County • Health Care Center for the Homeless, Orlando • Hixardt Technologies, Pensacola • Housing Partnership, Riviera Beach • Human Development Center, Tampa • Inkbridge, LLC, Tallahassee • iRemedy Healthcare, Stuart • Jacksonville Beach CRA • Jacksonville LISC • Jessie Ball duPont Fund, Jacksonville • Keystone Challenge Fund, Lakeland • KIPP Jacksonville • Lake County Housing Services, Ocala • Lake Point Holdings, Canal Point • Lake Worth CRA • Ledarp Enterprises, Miami • Lee County Housing Development Corporation, Fort Myers • Lotus Village Development, Miami Beach • McDuff QALICB (KIPP Jacksonville Schools) • Metro North Community Development Corporation, Jacksonville • Mid-Florida Housing Partnership, Ormond Beach • Neighborhood Lending Partners, Tampa • Neighborhood Medical Center, Tallahassee • Neighborhood Renaissance, West Palm Beach • OL'MAN Outdoors, Tallahassee • Opa-Locka CDC • Operation New Hope, Jacksonville • Orange County Florida Government, Orlando • Our House in Dania, Plantation • Palm Beach County Government • People Helping Each Other, Miami • Picerne Development Corporation of Florida, Altamonte Springs • PSPE LLC, Milton • Pung and Read Housing Consultants, Lake Worth • Redevco Management, Miami • Riviera Beach CRA • Rural Neighborhoods, Homestead • Seaside National Bank & Trust, Winter Park • SFCDC, Miami • Shelton Dean, Tallahassee • Sirius Development Group, St. Petersburg • Small Business Advisors, Palm Harbor • SoHo Capital, Tampa • South Florida Community Development Coalition, Miami • South Florida Museum and Bishop Planetarium, Bradenton • Southwest Florida Community Foundation, Fort Myers • St. Johns Housing Partnership, St. Augustine • St. Petersburg Neighborhood Housing Services, Inc. dba Neighborhood Home Solutions, St. Petersburg • Stone Soup Development, Miami • Sunny Land Solar, Tallahassee • SWFLCF Support Organization, Fort Myers • Tampa Bay Community Development Corporation, Clearwater • Tampa Family Health Centers, Tampa • The Transition House, St. Cloud • Treasure Coast Homeless Services Council, Vero Beach • Trinity Empowerment Consortium, Palmetto Bay • Urban Development Solutions, St. Petersburg • Urban Trust Capital, Jacksonville • Vasant Patel Development, Lakeland • Web Parts, St. Petersburg • Westgate/Belvedere Homes CRA, West Palm Beach • Windsor Aughtry, Gainesville
Notes:
1 NMTC Coalition, 2016 Progress Report.
2 NMTC Economic Impact Report, December 2012.
3 National NMTC Coalition testimony to the House Ways and Means Committee, 2013.
4 National NMTC Coalition estimates.