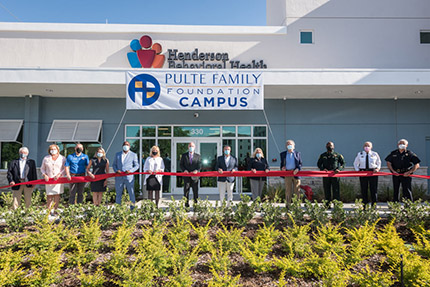 Henderson Behavioral Health celebrated the completion of their new Crisis Stabilization Unit and Receiving Center facility with a ribbon cutting on April 8, 2021. The new building, located on the Pulte Family Foundation Campus in Fort Lauderdale, was made possible with financing through Florida Community Loan Fund's New Markets Tax Credit (NMTC) Program.
The new 32,000 square-foot facility houses a Crisis Stabilization Unit (CSU) and offers crisis walk-in services, mobile crisis response teams, and a pharmacy. The 48 beds provide services and meals for patients as they are assessed and either admitted for stabilization or referred to other services.
The NMTC Program was created by the U.S. Department of Treasury's CDFI Fund to provide economic development, high social impact, and jobs creation in distressed census tracts. FCLF provided $14 million in federal NMTCs for Henderson Behavioral Health. The investor is PNC Bank. The new facility is projected to serve 2,400 patients annually, and created an estimated 170 jobs.
Since 2000, Henderson Behavioral Health has provided short-term, intensive treatment and stabilization in an inpatient setting – 24 hours a day, 7 days a week – and has offered more than 50 behavioral health programs in every age group, from infants to older adults. www.hendersonbh.org
Watch a video of the ribbon cutting at Henderson Behavioral Health here.
Learn more about FCLF & Henderson Behavioral Health here.