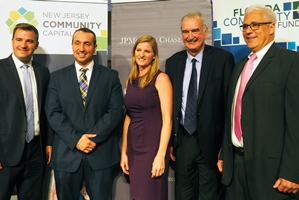 JPMorgan Chase announced this week that it has awarded a total of $5 million to Florida Community Loan Fund (FCLF) and New Jersey Community Capital (NJCC) to increase affordable housing in Central Florida.
Due to the lack of affordable rental units and other barriers, one in 50 families in Central Florida – including one in 17 children – experience homelessness each year. Many of these families end up living in hotels or motels, doubling up with other families, or in homeless shelters. (2015 Report by Barbara Poppe and the Central Florida Commission on Homelessness.)
FCLF and NJCC are two high-performing Community Development Financial Institutions (CDFIs) who have previously worked together to provide affordable housing in Tampa and South Florida. This grant from JPMorgan Chase will allow our partnership to create innovative, new ways to develop affordable housing and fill the needs and gaps that currently exist.
"This collaboration brings together two highly capable organizations with complementing capacity and expertise to deliver more than we could achieve by ourselves," said FCLF CEO Ignacio Esteban.
The $5 million grant seeks to increase affordable rental housing in 3 priority areas:
Increase multifamily affordable housing by testing and evaluating new and innovative models, such as the acquisition and repurposing of shipping containers;
Acquire pools of non-performing mortgages and rehab the units into high-quality, affordable rental housing for low- to moderate-income families;
Provide innovative and long-term financing to nonprofits developing affordable multifamily housing.
The grant was announced in Orlando on October 5, 2017, by Mel Martinez, Chairman of the Southeast for JPMorgan Chase. Also on the announcement program were City of Orlando Mayor Buddy Dyer and Orange County Mayor Teresa Jacobs.
Learn more from these additional articles:
Pictured above: Jeff Crum, New Jersey Community Capital; Brent Semachko, JPMorgan Chase; Ann Reinert, JPMorgan Chase; Wayne Meyer, New Jersey Community Capital; Ignacio Esteban, Florida Community Loan Fund
---
About Florida Community Loan Fund. Florida Community Loan Fund is a nonprofit, multifaceted financing entity with a 20+ year history of providing flexible capital and expertise to low income communities across Florida. FCLF is nationally recognized for its work as a certified CDFI and CDE through the U.S. Dept. of Treasury and as a member of the Federal Home Loan Bank of Atlanta. FCLF has financed $308 million through 275 loans in Florida, making possible over $910 million in new investments in low-income communities. As a lending institution, FCLF's borrowers include nonprofits and for-profit mission-focused developers, housing authorities, a wide range of social service organizations, and community health centers. Investors and supporters of FCLF include financial institutions, corporations, foundations, religious investors from various denominations, and federal and state government.
About New Jersey Community Capital. New Jersey Community Capital is a nonprofit community development financial institution (CDFI) that provides innovative financing and technical assistance to support the preservation and development of affordable housing and sustainable community development ventures that increase jobs, improve education, and strengthen neighborhoods. Founded in 1987, NJCC has invested over $630 million in New Jersey communities, resulting in over 9,700 housing units, 7,300 early care slots, 16,500 education seats, and 9,600 jobs. For more information, visit: www.newjerseycommunitycapital.org.
About JPMorgan Chase. JPMorgan Chase & Co. (NYSE: JPM) is a leading global financial services firm with assets of $2.5 trillion and operations worldwide. The Firm is a leader in investment banking, financial services for consumers and small businesses, commercial banking, financial transaction processing, and asset management. A component of the Dow Jones Industrial Average, JPMorgan Chase & Co. serves millions of consumers in the United States and many of the world's most prominent corporate, institutional and government clients under its J.P. Morgan and Chase brands. Information about JPMorgan Chase & Co. is available at www.jpmorganchase.com.