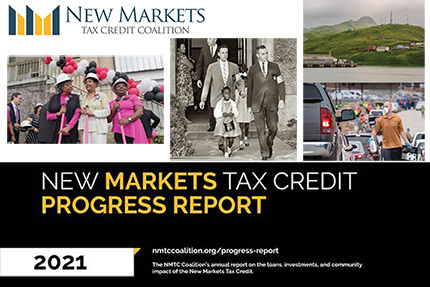 The New Markets Tax Credit Coalition recently released its 2021 NMTC Progress Report, which provides an analysis of NMTC activities in 2020.
Learn more and view the report here.
The report includes data from CDEs – Community Development Entities – and information on their work delivering billions of dollars to businesses, creating jobs, and rejuvenating parts of the country that have been left behind.
The New Markets Tax Credit (NMTC) Program was created by Congress in 2000. It has proven to be an essential tool in driving capital investment into the poorest, most severely distressed urban and rural communities outside of the economic mainstream.
Florida Community Loan Fund has participated in the NMTC Program since 2003 and has received a cumulative $316 million in NMTC allocation awards from the U.S. Treasury CDFI Fund. Learn more about FCLF's NMTC Program here.
Highlights from this year's NMTC Progress Report include:
CDEs used $2.9 billion in NMTC allocation in 2020 to finance 272 NMTC projects in 48 states, Puerto Rico and the District of Columbia, amounting to $5.5 billion in total project investment to low-income communities.
This financing resulted in the creation of 45,090 total jobs, including 28,322 permanent full-time-equivalent jobs and 16,768 construction jobs.
Across 46 states and territories, CDEs rehabilitated or constructed 15.4 million square feet of space in 2020, thanks to NMTC financing.
82 projects expanded healthcare access in 2020 for 1.3 million patients. Healthcare projects included 41 Federally Qualified Health Centers and free clinics.
188 million meals were provided by food banks, food pantries, and community food projects financed in a year marked by an increase in food insecurity.
More than 84,000 children in schools, youth programs and childcare centers were served.
NMTC financing supported 152 manufacturing and industrial businesses with loans for working capital, new equipment, and 5.5 million sq. ft. of new space, often through incubators and multi-business facilities, creating 9,298 manufacturing jobs.
61 percent of mixed-use projects included at least one community facility, nonprofit, or social service component. Those new community resources add up to over 408 nonprofit facilities, health centers, childcare centers, libraries, community centers, and other community facilities.
85 percent of projects were in severely distressed communities.