Free Resources for Affordable Housing Developers and Residents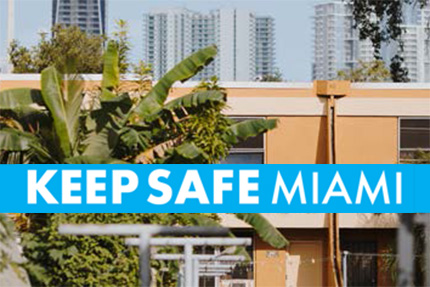 Keep Safe Miami is a new program which will equip affordable housing owners and operators with tools to assess their buildings' resilience to climate change and natural disasters, and provide them with actionable strategies and guidance on financing to address these vulnerabilities.
Enterprise Community Partners, the City of Miami, Miami-Dade County, Miami Beach, Florida Housing Coalition, SFCDC, IBTS and Communities United are excited to announce that Keep Safe Miami is now live and available to access. In the links below are tools and guides to help affordable housing developers and owners assess the vulnerabilities of portfolios and properties, build a plan to make enhancements, and learn to access capital to turn that plan into action. By being prepared in the face of weather disasters, you can avoid costly repairs and rebuilding costs and better protect your residents from harm.
All the resources in Keep Safe Miami are free to use – to get started, enroll here.
Keep Safe Miami includes:
For Developers
For Residents
Training – Residents can sign up to receive free training on disaster preparedness, as well as actions they can take to increase their energy efficiency and save on costs.
There is no catch. You value your properties and your tenants and want them to be protected from harmful storms and climate events. That's what the City of Miami and all the partners involved in Keep Safe Miami want too.
What's at Stake. South Florida is home to approximately 43,000 multifamily affordable housing units, many located in the Miami area. The impacts of climate change and extreme-weather conditions are increasing, and a number of these units are aging, without consideration of climate related risks. In addition, the Miami-Fort Lauderdale-West Palm Beach, Fla. metro area added approximately 181,000 new residents to the 100-year floodplain over the period ending in 2016, the most of any region nationally.
For owners of multiple properties of affordable housing (portfolio owners), even one damaged building can undermine the financial health and integrity of a portfolio. Any resulting property loss or extensive repairs can significantly impact the ability of residents to have a safe and healthy home, and lead to displacement of families and economic distress across entire communities.
Keep Safe Miami will first help affordable housing owners prioritize the most at-risk buildings, then provide actionable strategies and financing recommendations to ensure their properties and residents can be protected. The tools will be provided free-of-charge and will be accompanied by a series of trainings.
www.EnterpriseCommunity.org/KeepSafeMiami
Florida Community Loan Fund is a funding resource for Keep Safe Miami.