KIPP Impact Middle School Shows Large FCAT Gains in its Second Year
From KIPP Impact Middle School website. View original article here.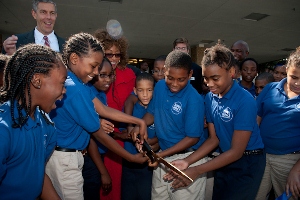 Tom Majdanics, Executive Director of KIPP Jacksonville Schools, recently shared the news that KIPP Impact Middle School increased its school grade in the 2011-12 school year to a "B", as reflected in recently released updated scores from the Florida Department of Education. The new scores make KIPP Impact the highest rated middle school in Northwest Jacksonville and the highest rated among the 18 Duval County middle and K-8 schools that serve 70% or more students who are eligible for the free and reduced price lunch program.
KIPP saw increased passing rates in both math and reading this year, especially among its 6th grade students who have had the benefit of two full years at KIPP. 69 percent of its sixth graders passed the FCAT math exam this year, up from 31 percent in 2011. In reading, sixth grade FCAT passing rates increased by 17 percent, from 23 percent in 2011 to 40 percent in 2012.
"Our sixth grade students, having spent two years at KIPP, have begun to blossom academically," said Tom Majdanics, Executive Director of KIPP Jacksonville Schools. "While our KIPP students are making great strides, there is still plenty of room for growth. We will not be satisfied until our students earn acceptances to college prep high schools in 8th grade."

Founded in 2010, KIPP Impact currently students in grades five and six, and will add a seventh grade in the summer of 2012. It will become a full 5th through 8th grade middle school in 2013. KIPP Impact students attend school for nine hours daily, giving them time to devote to math and reading and participate daily in an instrumental music program where students learn important skills like discipline, teamwork, and grit.

With a student body that is 99 percent African-American and 89 percent qualifying for free or reduced price lunches, KIPP Impact improved its achievement results this year by focusing on giving its students individualized attention and providing students with extra tutoring during the school day and on weekends. Eighty-seven percent of KIPP Impact students showed learning gains in math this year, ranking it 2nd of the 27 middle schools in Duval County and 11th among 584 middle schools statewide. Sixty-three percent of KIPP students showed learning gains in reading.

"These results are a tribute to the hard work and dedication of KIPP Jacksonville's students, teachers and community," said John Baker, chair of the KIPP Jacksonville Schools board of directors. "We are on the right track and will continue to work hard to build on this year's progress to show what's possible for public education in Jacksonville."

Starting this fall, KIPP Impact will enroll approximately 270 students in fifth through seventh grade. A second KIPP school, KIPP VOICE Elementary, will be opening its doors to its inaugural class of kindergarteners this August.
"Lastly, while it never will show up on a school grade report," said Tom Majdanics, Executive Director of KIPP Jacksonville Schools, "I wanted to share with you two links to our young musicians in action. The first link is KIPP's first attempt at a musical note in the fall of 2010 (our baseline). The second link is from our students' musical assessment this past spring, where they played before judges for the first time."
---
About KIPP Jacksonville Schools.
KIPP Jacksonville Schools are part of the national network of KIPP (Knowledge Is Power Program) schools. The mission of KIPP Jacksonville Schools is to prepare its students with the academic and character skills necessary to succeed in high school, college and the competitive world beyond. Through the success of its students, KIPP Jacksonville aims to serve as a model of excellence and to collaborate with others to raise the quality of education in Jacksonville and the state of Florida.