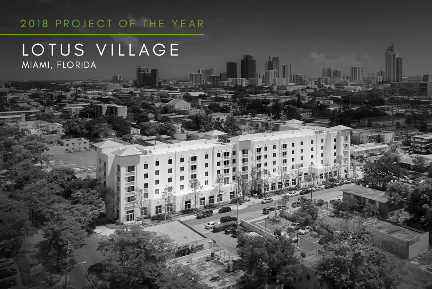 Lotus Village in Miami, Florida, has been selected as the Project of the Year by the Urban Land Institute Southeast Florida / Caribbean as part of its 2018 Vision Awards. The awards are dedicated to recognizing excellence in land use and real estate development in Southeast Florida and the Caribbean and were announced on August 30.
Since 2004, Lotus House has provided shelter and support to homeless women and children in Miami's Overtown neighborhood. The newly completed Lotus Village provides 107,000 square feet that includes 140 living units, on-site healthcare, day care, commercial kitchen, classrooms and counseling space. The project will serve 980 annually, doubling its previous capacity. On-site healthcare will be available to all area residents and will serve 5,000 annually. Lotus Village's holistic approach to homelessness addresses not only immediate causes, but also the deeper issues such as domestic violence and trauma.
Lotus Village's new facility was financed through the New Markets Tax Credit Program, with tax credit allocation provided by Florida Community Loan Fund. NMTC is a Federal program created by Congress to encourage the flow of investments into low-income communities.
Learn more about the ULI 2018 Vision Award on ULI Southeast Florida / Caribbean website.
Learn more about FCLF and Lotus Village.
Visit the Lotus Village website www.lotushouse.org.
Photos from the 2018 Vision Awards, SEFlorida.ULI.org