NMTCs Make Miracle Come True for Homeless in Tampa
"Almost 18,000 people are homeless in Tampa, Florida on any given night, with one in five of them children. Thanks to new markets tax credits (NMTCs) and tremendous local support, a new $23 million community services campus in Tampa is being built to serve the metropolitan area with the highest per capita rate of homelessness in the nation." - Teresa Garcia, Staff Writer, Novogradac & Company LLP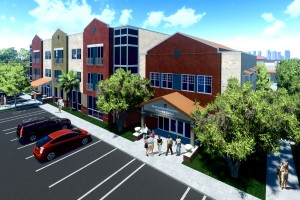 Florida Community Loan Fund (FCLF) recently announced our involvement with Metropolitan Ministries and the Miracle Place campus in Tampa. FCLF provided $10 million in federal NMTC allocation for the project which, when complete, will annually serve more than 20,000. All of Metropolitan Ministries' programs and services are designed to move homeless families toward greater self-sufficiency.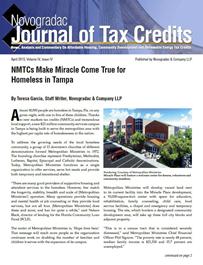 This project has received notice nationwide, and is now featured in the April 2013 issue of the Novogradac Journal of Tax Credits. You can visit the Novogradac & Company LLP website here and click here to read the article featuring Metropolitan Ministries.
Visit our FCLF Flickr page to see more photos of Miracle Place construction in progress.

Thanks to Novogradac & Company LLP and the Novogradac Journal of Tax Credits for featuring the Metropolitan Ministries NMTC Project.