FCLF Committee Member honored for exemplary service to the State.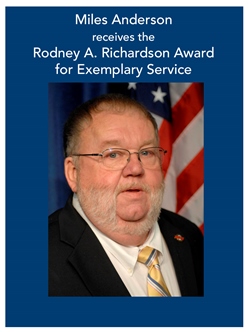 The Florida Division of Emergency Management (FDEM) has awarded Miles Anderson with the Rodney A. Richardson award. This award is to "recognize exemplary service to enhance the field of emergency management in the State of Florida." The award is presented annually in memory of Rodney A. Richardson, a former FDEM employee.
Miles Anderson, a volunteer Lending Commmittee Member and former board member of Florida Community Loan Fund, is currently the Mitigation Bureau Chief with the Florida Division of Emergency Management. The following information is from the Division's announcement of the award:
During Miles' tenure with FDEM, he has worked on the considerable goal of advancing mitigation for the State of Florida. Over the past 9 years Miles has shown great leadership and the Bureau has administered nearly $980 million throughout the state into programs that work to aid communities to accomplish their mitigation initiatives, advance building codes, and create new ordinances that meet the requirements of National Flood Insurance Program.
Additionally, under Miles' leadership, Florida has achieved Enhanced State status in accordance with the Disaster Mitigation Act of 2000. Currently, this status has only been awarded by FEMA to twelve states, recognizing Florida's dedication and commitment to a comprehensive mitigation program.
Congratulations to Miles Anderson on achieving this prestigious award! And thank you for your continued to work to help FCLF build strong communities in Florida.
To read the FDEM newsletter announcing Miles Anderson's award, click here.