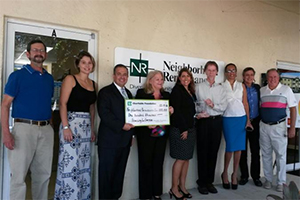 Neighborhood Renaissance, Inc., was recently awarded a $100,000 affordable housing grant through the TD Charitable Foundation's Housing For Everyone grant competition. The grant will be used to help fund the development of Mango Cove Apartments, 36 newly built apartments in Palm Beach County's Urban Redevelopment Area.
Neighborhood Renaissance is a nonprofit dedicated to building and supporting strong economies and diverse communities in Palm Beach County. A long-time partner of Florida Community Loan Fund, Neighborhood Renaissance has financed low-income housing with $5.4 million in FCLF loans, including financing for the Mango Cove Apartments land purchase and construction. Learn more about the Neighborhood Renaissance - FCLF partnership here or visit the organization's website www.neighborhoodrenaissance.org.
TD Charitable Foundation is also a supporter of Florida Community Loan Fund. Learn more about our partnership here.
Read more on this announcement from Neighborhood Renaissance here.