New Markets Tax Credit Program Updates
The New Markets Tax Credit (NMTC) Program was created by Congress in 2000 to encourage the flow of private investment into very low-income communities. Florida Community Loan Fund, FCLF, has been active in the NMTC Program for ten years, having received a total of $151 million in tax credit allocation authority to date.
The NMTC Coalition recently shared the following news items through its website and blog.
---
NMTC 2013 Progress Report Provides Evidence on Effectiveness of the Credit as a Tool for Driving Capital to Areas of Economic Distress

.

A report issued by a coalition of community development organizations and financial institutions details how the New Markets Tax Credit (NMTC) transformed private sector capital into patient, flexible capital for credit-starved businesses in low income communities across the country during the previous year. In 2012 alone, the NMTC was responsible for the direct creation of almost 50,000 jobs in economically distressed urban and rural communities across the country, according to a new report from the NMTC Coalition. These 47,821 jobs represent an impressive two percent of the 1.8 million jobs created in America last year. The 2013 NMTC Progress Report provides detailed insights into how the NMTC was used in 2012, including the types of projects it helped financed and the areas where these projects occurred, and presents findings on the impacts of these investments, at both the micro and macro levels.
---
Bipartisan Bill to Permanently Extend New Markets Tax Credit Introduced in Senate.
U.S. Senators Roy Blunt (Mo.) and Jay Rockefeller (W.Va.) introduced a bipartisan bill on June 11 to make the New Markets Tax Credit (NMTC) Program permanent. The NMTC provides private investors with a 39 percent federal tax credit for investments made in businesses or economic development projects in some of the most distressed communities in the nation. The bipartisan bill is co-sponsored by U.S. Senators Ben Cardin (Md.), Susan Collins (Maine), and Maria Cantwell (Wash.).
A bipartisan effort since its inception, the NMTC began as a collaboration between Democratic President Bill Clinton and Republican Speaker of the House Dennis Hastert to attract capital to low income communities. The Credit provides private investors with a modest federal tax credit for investments made in businesses or economic development projects in census tracts in which the poverty rate is at least 20 percent, or median family income does not exceed 80 percent of the area median. Since it was enacted, the NMTC has generated billions of dollars in private investments in projects and communities that likely would never have received injections of patient capital otherwise. In fact, a survey conducted by the U.S. Government Accountability Office (GAO) found that 88 percent of NMTC investors would not have made their investments if not for the incentive of the Credit.
---

About New Markets Tax Credit Coalition. The NMTC Coalition is a national membership organization of Community Development Entities and investors organized to conduct research on and advocacy for the New Markets Tax Credit. The Coalition hosts two annual conferences and regularly publishes the NMTC Bulletin. To learn more, please visit www.nmtccoalition.org.
To learn more about FCLF's NMTC Program, view our NMTC Program and Projects Fact Sheet. View more photos of NMTC Projects on our Flickr page.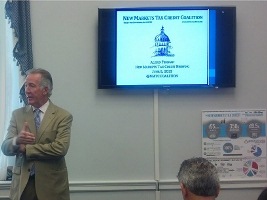 Pictured at right: a breakfast briefing sponsored by the NMTC Coalition.