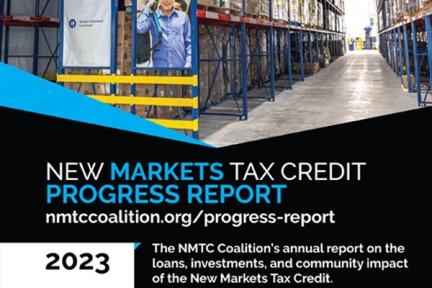 The New Markets Tax Credit Coalition released its 2023 New Markets Tax Credit (NMTC) Progress Report, providing analysis of NMTC activities in 2022.
Click here to view the NMTC Coalition press release.
Click here to view the 2023 NMTC Progress Report.
The report was prepared by the NMTC Coalition, a national membership organization of Community Development Entities (CDEs) and investors organized to advocate for the NMTC. Every year since 2005, the NMTC Coalition surveys CDEs on their work, delivering billions of dollars to businesses, creating jobs, and rejuvenating the parts of the country that have been left behind. The annual NMTC Progress Report presents the findings of the CDE survey and provides policymakers and practitioners with the latest trends and successes of the NMTC.
Report highlights:
52,822 jobs generated through NMTC projects
297 projects totaling $6.7 billion received $3.2 billion in NMTC allocation (at a 10-year cost to the federal government of $832 million)
83% of projects were in severely distressed communities
59% of projects were in communities of color (minority census tracts)
Florida Community Loan Fund, FCLF, has participated in the NMTC Program since 2003, and has been awarded 10 NMTC allocations from the U.S. Treasury's CDFI Fund for a total of $391 million in Federal allocation awards. FCLF has provided NMTC allocation to 34 projects in Florida's low-income communities, totaling $480 million in project costs, providing 7,800 jobs and providing services to 2+million low-income Floridians annually.