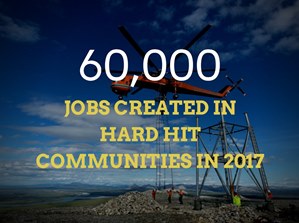 The New Markets Tax Credit (NMTC) Coalition has released the 2018 NMTC Progress Report, documenting the flexibility and importance of the NMTC in meeting needs in distressed communities nationwide. This 14th annual report from the NMTC Coalition is prepared based on 2017 surveys of national Community Development Entities (CDEs) on their work delivering billions of dollars to businesses, creating jobs, and rejuvenation parts of the country that have been left behind.
Highlights of this year's NMTC Progress Report include:
60,090 jobs created in 2017 through NMTC projects
$5.8 Billion in total project costs in 2017 financed through NMTC
18.8 Million square feet of construction or rehabilitation of facilities in low-income communities
Florida Community Loan Fund (FCLF) has been a participant in the NMTC program and a CDE since 2004. FCLF's NMTC program has financed 21 projects to date, bringing high economic development and social impact to Florida severely distressed communities.
Highlights of FCLF's NMTC Program to date:
$317 Million in total NMTC Allocation Awards received
$514 Million in total project costs financed
5,389 jobs through FCLF NMTC projects
1.6 Million square feet of facilities
Click here to view the full report.
Click here to read the press release from the NMTC Coalition.
Click here to learn more about Florida Community Loan Fund's NMTC Program.