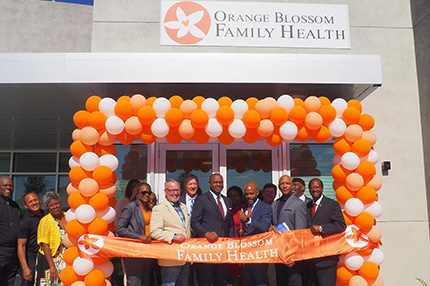 Orange Blossom Family Health held a ribbon cutting ceremony to celebrate the opening of its Ivey Lane facility on May 24, 2019. The event also included a tour of the new facility, which will offer medical, dental, vision, behavioral health, and pharmacy services to residents in Orlando's Ivey Lane community. The health center is expected to reach 6,000 new patients annually.
Florida Community Loan Fund provided financing for the new healthcare facility, through its Community Development loan program and through the New Markets Tax Credit (NMTC) financing program. Additional support for the project was provided by City of Orlando, Orange County, and others.
Orange Blossom Family Health was founded in 1993 as Health Care Center for the Homeless, Inc. to provide healthcare to homeless and uninsured. Now with 6 locations, in 2018 Orange Blossom Family Health provided care for 19,000 unduplicated patients.
"This new medical facility will be a great resource for residents of the Ivey Lane community and surrounding areas," said Bakari Burns, President & CEO of Orange Blossom Family Health. "I believe that access to quality health care is an important building block that helps our community prosper and grow… and this center will improve overall health of the community and be a valuable asset that will serve people for years to come."
Learn more about FCLF and Orange Blossom Family Health here.
View the FCLF-Orange Blossom Family Health video including an interview with Bakari Burns and FCLF CEO Ignacio Esteban, along with City and County officials.
View more photos of Orange Blossom Family Health in FCLF's Flickr album.
Pictured above, the ribbon cutting at Orange Blossom Family Health's Ivey Lane healthcare facility. Below, exterior and interior photos.