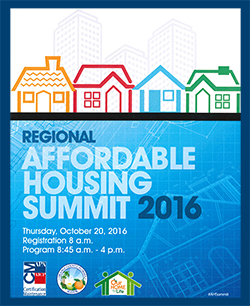 Orange County, Florida, recently hosted an Affordable Housing Summit that focused on the affordable housing needs and solutions in Central Florida. Mayor Teresa Jacobs noted in the event program that "it is critically important that we develop and implement strategies that will result in more inclusive and diverse housing markets – a vital asset to creating and maintaining sustainable communities."
Speakers at the Summit included Orange County Mayor Teresa Jacobs, Senator Mel Martinez, and Dick Batchelor. Florida experts on housing also gave insight on the need for affordable housing, including Jaimie Ross of the Florida Housing Coalition, Nancy Muller of the Florida Housing Finance Corporation, and William O'Dell and Anne Ray of Florida Shimberg Center for Housing Studies. The afternoon agenda included break-out sessions where attendees were able to discuss solutions in a small group setting. Topics covered:
Where? Selecting Pilot Areas for an Affordable Lifestyle
How? Regulatory and Financial Tools for Increasing Affordable Housing Supply
What? Affordable Housing Types and Communities.
Anne Ray of The Shimberg Center noted that in Orange, Seminole, Osceola and Lake Counties, about 98,000 residents are considered "cost burdened" because they spend more than 30 percent of their income on housing costs.
More than 300 registrants attended the event, according to an Orlando Sentinel article. Florida Community Loan Fund staff members were among those in attendance.
Florida Community Loan Fund understands the critical need for more affordable housing in Florida. Through 250+ loans in our 20+ year history, we have provided financing for nearly 4,500 affordable homes, and we continue to seek organizations and projects with whom we can partner to increase the amount of affordable housing. Visit Meet Our Borrowers to learn more about FCLF financing and our partners' success stories.