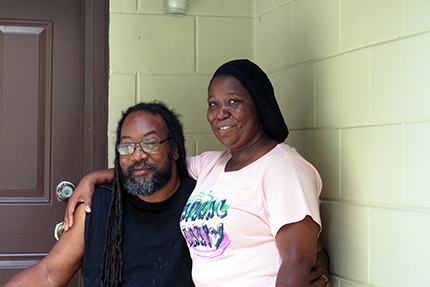 "This is a like a dream come true… This is just wonderful." – PASF Resident
---
In Orlando, 76% of low-income households are cost burdened, spending more than 40% of income on rent and utilities. In the Parramore neighborhood – a historic and predominantly African-American area – the median income is $15,000, and unemployment is at 24%, making it one of the poorest sections of the city.
In February 2019, Parramore Asset Stabilization Fund, PASF, was formed as a collaboration of three nonprofits – Florida Community Loan Fund, Central Florida Foundation, and New Jersey Community Capital – to improve and preserve quality, long-term, affordable rental housing through an $8 million investment. PASF purchased 83 scattered-site residential units across 44 properties in Orlando's Parramore neighborhood, with a commitment to renovate the homes and keep rents affordable. As of January 2020, rehab work is underway and more than half of the properties are now complete. Rehab work is expected to be complete in the third quarter of 2020.
Major renovations include new roofs, kitchens, bathrooms, floorings, and in many instances, entirely new HVAC systems. In addition, in partnership with the Orlando Utilities Commission, the homes have received energy conservation upgrades that will reduce monthly utility bills for residents: attic insulations, duct repairs, efficient showerheads, low flow toilets, energy efficient lighting, window replacements, and new heat pumps.
On a recent visit with residents April and James, they expressed their excitement over the changes made to date. They shared, "This is a like a dream come true. Everything they did in here, compared with how we were living… this is just wonderful."
James, who's disabled and uses a cane to get around, adds that he and his wife are no longer ashamed of their living conditions. "Now, people come over and we're glad they come over and see how everything looks. It really makes us feel good," he says.
In an effort to ensure strong communication and relationships, PASF has a Community Liaison on staff who will help seek solutions to residents' concerns, collaborate with residents and community leaders on projects, and identify area groups that can provide services for residents and the overall community.
PASF is committed to keeping rents affordable, and after seven to nine years, residents will be offered the option to purchase their home. Those homes not purchased by the current residents will transition from PASF to the Central Florida Regional Housing Trust, ensuring long-term affordability. The significant financial capability of the three PASF partners laid the groundwork for this collaboration, making community-wide improvements of this scale achievable. PASF demonstrates FCLF's commitment to collaborating with partners who share our vision of greater opportunities for Florida communities.
Parramore Asset Stabilization Fund would like to thank these partner for their support: JPMorgan Chase Foundation • City of Orlando • OUC • Wells Fargo • SunTrust • Seaside National Bank & Trust • Orlando City Soccer Club • Orlando Magic • BB&T • and other private donors.
Pictured below, a typical PASF property kitchen before rehab, and resident April proudly shows off her newly renovated kitchen.
For more information:
Rachel Calderon This email address is being protected from spambots. You need JavaScript enabled to view it.
Janet de Guehery This email address is being protected from spambots. You need JavaScript enabled to view it.
Caroline White This email address is being protected from spambots. You need JavaScript enabled to view it.