BankUnited Announces New Senior Vice President / Community Development Officer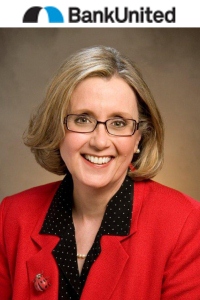 Claire Raley, member of the Florida Community Loan Fund (FCLF) Board of Directors, recently joined BankUnited as the Senior Vice President / Community Development Officer. Claire has volunteered with FCLF for more than five years, and in addition to the Board she serves on various committees. She has former experience with JPMorgan Chase Bank, Washington Mutual Bank, and as an independent consultant in the Miami area.
Congratulations to Claire Raley!
---
The text of the BankUnited press release appears below. Click here to view the original press release.
MIAMI LAKES, Fla.--(BUSINESS WIRE)--BankUnited has named Claire Raley as senior vice president and community development officer, responsible for overseeing, coordinating and providing strategic direction for the Bank's community development initiatives.
"BankUnited is a vigorous supporter of economic and community development in and around the cities where we do business," said BankUnited Chairman, President and CEO John Kanas. "Claire's strong ties to community organizations and her depth of experience will bolster BankUnited's ongoing commitment to helping our communities prosper."
Raley's previous experience includes having held executive level community relations and CRA positions with JP Morgan Chase Bank, Washington Mutual Bank and AmeriFirst Bank, all in the Miami area. Some of her duties while at Washington Mutual included responsibility for a multi-state CRA/community and external affairs team that covered Florida, Georgia, New York, New Jersey and Connecticut.
In addition to her banking industry experience, Raley served as senior vice president for Greater Miami Neighborhoods, overseeing operations and programs for this statewide, nonprofit affordable housing organization. Prior to that, she served as the Greater Miami program director for the Local Initiatives Support Corporation, a national non-profit community development intermediary providing technical and financial assistance to community development corporations. Raley began her community development career in local government, working in the Community Development Block Grant Programs for the City of Miami Beach and City of Hialeah, and the Miccosukee Tribal Community Action Agency in Miami.
Active in the community, Raley serves on the board of the Florida Community Loan Fund. She is a member of the South Florida Community Development Coalition and the Consortium for a Healthier Miami Dade. She has a master's degree in public administration from Florida International University and a bachelor's degree from Florida State University.
Raley will be based at BankUnited's headquarters in Miami Lakes.
About BankUnited, N.A. BankUnited, N.A., a national bank and wholly-owned subsidiary of BankUnited, Inc. (NYSE: BKU), is headquartered in Miami Lakes, Florida with $11.7 billion of assets, more than 1,360 professionals and 97 branches in 15 Florida counties as of December 31, 2012. Ranked 10th on Forbes Magazine's list of "Best Banks in America 2012," and one of the largest independent depository institutions headquartered in Florida by assets, BankUnited provides a wide range of commercial and consumer banking services. The company recently opened branches in New York. For additional information, call (877) 779-2265 or visit www.BankUnited.com.