KIPP Jacksonville and FCLF host U.S. Representative Ander Crenshaw for NMTC Tour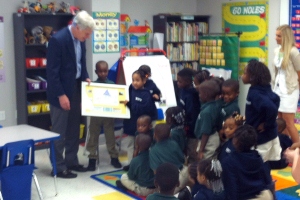 On October 23, 2012, Representative Ander Crenshaw paid a visit to KIPP Jacksonville Schools and toured both KIPP VOICE Elementary and KIPP Impact Middle School. The KIPP Jacksonville campus was renovated using funding provided through the New Markets Tax Credit (NMTC) Program.
Representative Crenshaw is a supporter of the NMTC Program, and during his visit to KIPP Jacksonville he was able to meet students who are benefiting from a world-class education. The kindergartners at KIPP VOICE Elementary presented Rep. Crenshaw with a framed hand-drawn picture of their KIPP campus as a thank you for his support.
The New Markets Tax Credit Program was created by Congress in 2000 to encourage the flow of private investment into very low-income communities. Since that time, it has generated $45 billion in investments to projects and businesses in low-income communities, with 300,000 jobs created or retained – 70,000 of which were in 2010 alone.
KIPP Jacksonville Schools is a non-profit organization operating the nationally recognized KIPP charter school model in a repurposed greyhound racing track and clubhouse. KIPP (Knowledge is Power Program) schools are known for preparing students from underserved communities for success, with a national average of 85% of students going on to college. KIPP Jacksonville Schools currently has 370 students across grades K-8, with plans to expand enrollment to 1,000 by the 2016-17 school year.
Florida Community Loan Fund (FCLF) provided $15 million in New Markets Tax Credit (NMTC) allocation to support funding for this project. The total project cost is $26.2 million. KIPP Jacksonville Schools has created or retained 150 part-time jobs, 40 full-time jobs, and projects an additional 35 jobs in the future. The investor on the KIPP project is U.S. Bancorp Community Development Corporation. FCLF's partner in the project was National Equity Fund, a LISC affiliate, which provided $11 million in additional NMTC allocation.