13 Reasons to Celebrate - Neighborhood Renaissance Ribbon Cutting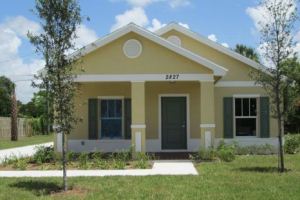 Neighborhood Renaissance held a ribbon cutting, Thursday, October 11, in the Westgate neighborhood of West Palm Beach. 13 quality built, energy efficient, 3-4 bedroom homes meeting green building standards with Florida-friendly landscaping were built south of Westgate Avenue in Palm Beach County. In addition to financing provided by the Florida Community Loan Fund, funds were made available through Palm Beach County Department of Economic Sustainability with a grant for construction through its FL CDBG 2005 Disaster Recovery Initiative program. The first buyers recently purchased their homes, with additional homeowners to follow in the coming weeks.
Keynote remarks were given by the Honorable Priscilla Taylor, Palm Beach County District 7 Commissioner.
For more information, visit www.neighborhoodrenaissance.org, or call 561.832.6776.
Below is information from the Neighborhood Renaissance press release dated October 11, 2012:
---
For Immediate Release
Neighborhood Renaissance Completes construction of Thirteen New Florida Green Building Coalition- Certified Energy-Efficient Homes in Westgate
West Palm Beach – October 11, 2012. Neighborhood Renaissance held a ribbon cutting at 2495 Hiawatha Ave. to celebrate the completion of thirteen energy-efficient homes that meet the standards of the Florida Green Building Coalition on what were five blighted vacant lots where decaying houses once stood. In addition to age and neglect, many Westgate homes were lost during the 2004-2005 hurricanes. This development is part of the long-term strategy to revitalize the Westgate community through the addition of new homeowners and the resurgence of the neighborhood's housing market.
To bring the home prices within the financial reach of low and moderate-income buyers, Palm Beach County's Department of Economic Sustainability (DES) provided a $2,058,461 construction grant. These dollars were part of the County's 2005 Disaster Recovery Initiative funds for Hurricane Wilma from the Florida Department of Economic Opportunity. According to Edward Lowery, Director of the Department of Economic Sustainability, "The state not only provided the financial resources but also the program guidance required to ensure that this funding was maximized to the greatest extent possible in addressing hurricane recovery and the preservation of affordable housing. Also our Board of County Commissioners has remained focused on addressing the housing and development needs of communities across Palm Beach County."
The Florida Community Loan Fund, a statewide source of flexible financing to support community development projects by non-profit organizations throughout the state, made an $850,000 revolving loan to the project as well. James Walker, South Florida Community Loan Fund Loan Officer, acknowledged, "The last few years have proven the critical importance of the non-profit industry in addressing urgent needs in our communities. I cannot think of any other way these homes would have been built."
Seven of the homes are already sold to first-time homeowners. One of the new homeowners, Liz Santiago, a single mother who works two jobs, commented on her new four bedroom home, "I have been searching for a place that was large enough for my family but could not find anything that I could afford. I doubted that I would ever own a home. Neighborhood Renaissance gave me the opportunity to finally purchase a quality home that I am proud of."
Neighborhood Renaissance is a community based organization that builds and supports strong economies and diverse communities in Palm Beach County. We are currently renovating 70 foreclosed homes for sale and/or lease to working families. This housing initiative is funded through a partnership with Palm Beach County's Department of Economic Sustainability. DES provided nearly $12,000,000 in federal Neighborhood Stabilization Program funding to Neighborhood Renaissance to help combat the negative impacts that foreclosed residential properties have on neighborhoods. During its recent history, the organization has helped over 65 families to purchase their first home and constructed 33 single-family homes in Northwood.
Currently, there are six homes still available. The sales prices range from $85,000 to $100,000; all models have three bedrooms. Interested first-time homebuyers may contact either Lashea Brooks or Christina Hewitt at (561) 832-6776 to learn more.
Contact Terri Murray
(561) 832-6776 ext. 102 or This email address is being protected from spambots. You need JavaScript enabled to view it.
510-24th Street, West Palm Beach, FL 33407